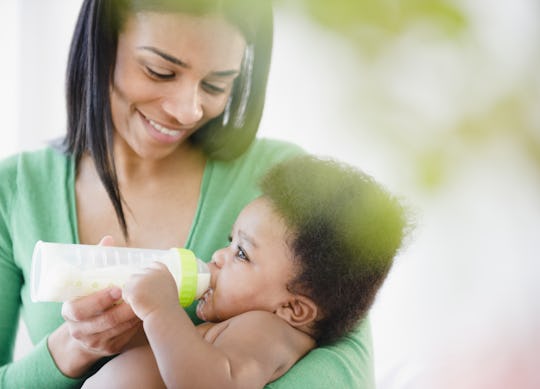 Amble Design/Shutterstock
7 Amazing Things That Happen Between You & Your Baby When You Wean
If you are breastfeeding or bottle-feeding with breast milk, at some point either you or your baby will decide it's time to wean. There is no set age that this needs to happen (although society norms attempt to tell moms otherwise). There are no set circumstances in which you should wean. All moms and babies do what's best for their situation. For some mothers, weaning can feel like a relief. For others it's quite emotional. However you feel about it, there are definitely some amazing things that'll happen between you and your baby when you wean.
I weaned my baby when she was 3 months old because my supply wasn't adequate. Not to mention, I really hated breastfeeding to the point that it caused me frustration and a lot of tears. My weaning journey was relatively easy (sans engorged breasts), because my baby was already being supplemented with breast milk filled bottles and formula. Even though we weren't nursing anymore, I was still able to bond with my baby during bottle feedings. And I was still able to soothe her in other ways when she cried.
Breastfeeding and weaning are personal choices that no one should judge or shame another mother for. Mothers are doing the best they can, and what's best for themselves and their babies. Regardless of how feel about your weaning journey, here are seven things to look forward to with your baby.