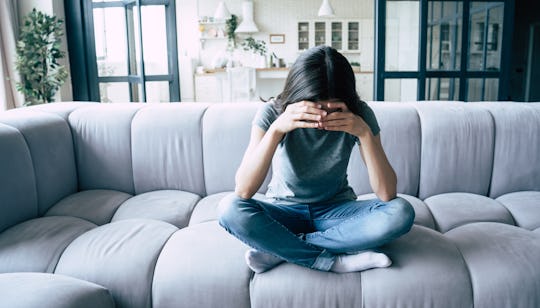 Shutterstock
7 Arguments That Only Toxic Moms Have With Their Kids
Relationships between mothers and children can be loving, emotional, frustrating, fraught, and so many other things. It's not always as simple or clear-cut as it might seem from the outside looking in, nor is it always as perfect as it can sometimes appear on TV or in books and movies. Relationships with toxic moms can be especially difficult to navigate, particularly if you're not yet at a place where you want to break off communication. There are some arguments that only toxic moms have with their kids that just really aren't part of most other mother-child relationships. If your mom is a toxic mom or your relationship with her is toxic, these sorts of arguments will likely sound quite familiar.
It's important to note, however, that just because you sometimes have difficulties with your mom doesn't necessarily mean that your mom (or your relationship) is toxic. "Being a mom is totally hard, and making mistakes is a given," Erin C. Parisi, LMHC, CAP, a licensed mental health counselor, tells Romper by email. "Every kid ends up with some kind of scars from childhood, it's inevitable. Really, it's about being the best parent you can be, along with being the best person you can be, so you're raising the best tiny humans you can. It's also important to keep in mind that the brain doesn't finish developing until the mid- to late-20s. The child's brain (even the adult child's brain!) can't process information the same way the parent can. Oftentimes, the parent's approach has to be adjusted depending on where the child is developmentally; an approach or explanation that works with one kid may not work the same for another kid."
That being said, some arguments are very much a part of a relationship with a toxic mom. If you recognize that these sorts of arguments are characteristic of your relationship with your own mom, it might help to do what you can to set boundaries with her, end the conversation, or work with a therapist. These arguments aren't uncommon and can be very difficult to handle, but you don't have to just let it go or deal with it all on your own.