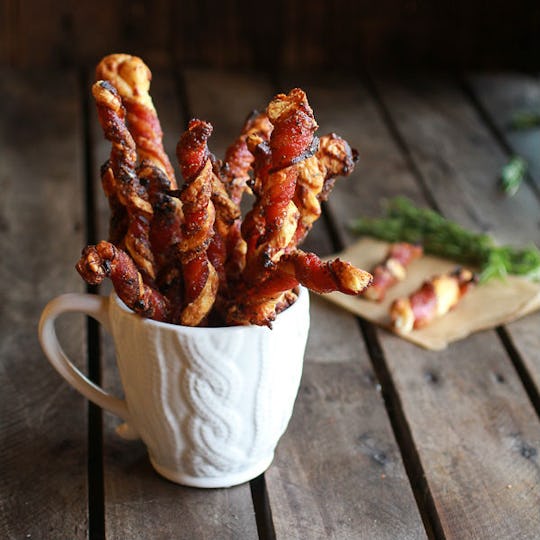 7 Bacon Cooking Hacks to Take Your Breakfast Essential to the Next Level (Aside From Adding More Bacon)
Ah, bacon. It's the food trend that just keeps on giving. Thanks in part to the food's versatility, you can find plenty of bacon recipes that make the most of this cured meat strip — from shot glasses to fried Oreos. You can even get a bacon-themed 50 Shades of Grey parody cookbook. (No, seriously. There's a bacon tie on the cover and it's fantastic.) And because bacon's popularity shows no signs of slowing, it's time to utilize some bacon cooking hacks and learn all the tricks to making it as delicious as possible.
I know. You don't think bacon can be more delicious. But I'm here to assure you it can. Bacon cooking can go far beyond the microwave or even the frying pan. You can glaze it, mold it, and weave it to help create some next-level dishes that are sure to leave your fellow bacon enthusiasts amazed. These creations will help you win over a potential partner (provided they aren't vegetarian, of course), gain a slew of Instagram followers, and make the tastiest BLT on the planet. Read on to learn how to cook up the crispiest, most savory bacon imaginable, and how to deploy it in everything possible meal scenario.