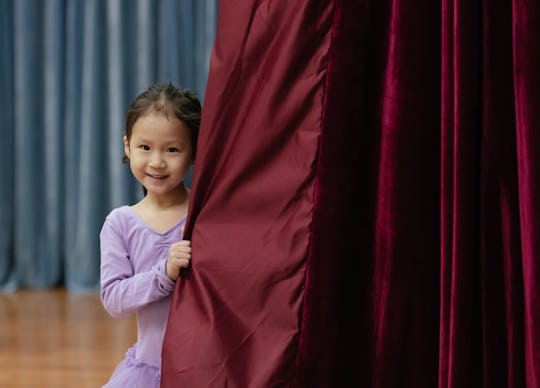 MaaHoo Studio/Stocksy
Your Kid Will Get *So* Much Out Of Theatre Classes (Besides An Oscar)
Growing up, I was a theatre kid. For over 15 years of my childhood, I took weekly theatre classes at a local community theatre. It was the cornerstone of my existence, drama queen that I was. It was the only arena in which I excelled. Now that I'm a parent, it's interesting to me to see how my kids learn from their drama classes — a part of the curriculum of their school. There are so many benefits of theatre classes for kids, and they're about so much more than having fun.
For years, it seemed that the only education worth pursuing was STEM (science, technology, engineering, and math) instruction, leaving creative pursuits by the wayside. But the tides are shifting in education and lately, a more well-rounded approach has emerged. STEM has become STEAM, with the A standing for "arts." While that could be anything from sculpture to tap dancing, many students find their home in the theatre. There are myriad benefits for children who enroll in theatre classes, from developing the ability to learn from older generations, as researchers at the University of Kentucky discovered, and promote cross-generational communication, to improving simple skills like memorization and spatial awareness, reported Scholastic.
As someone who is still terribly clumsy, I cannot imagine how much worse it would be if I hadn't learned to hit my mark, or find my light. These are just a few of the many benefits kids like me gain from the experience of theatre classes.