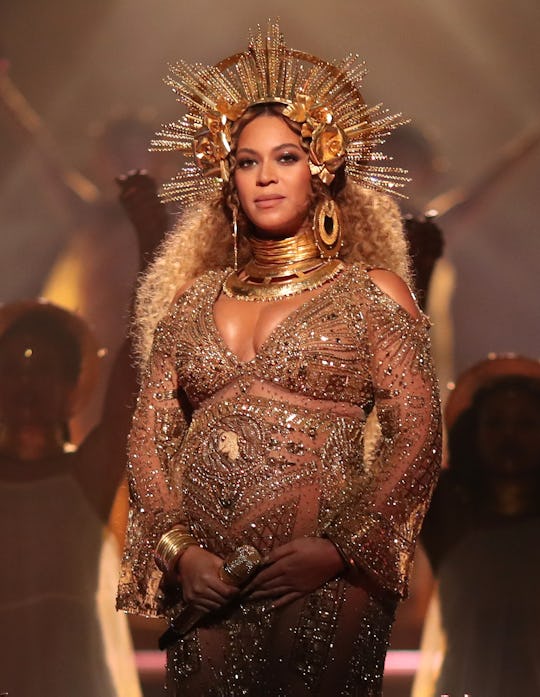 Christopher Polk/Getty Images Entertainment/Getty Images
Beyonce & 6 Other Celebs Who Had Preeclampsia During Pregnancy
While it might not happen to every woman, pregnancy can have a more extreme, even dangerous side. From hyperemesis gravidarum, the extreme morning sickness that has afflicted both Amy Schumer and Kate Middleton, to the gestational diabetes that affected Mariah Carey and Salma Hayek, to the placenta previa that sent Tori Spelling to the hospital, there are medical conditions and complications that can arise when a woman is carrying a child — some more common than others. Looking back at the past few years, Some of the celebs who had Preeclampsia during pregnancy, including Beyoncé, Kim Kardashian... and many more.
According to the Johns Hopkins Medicine website, some 8 percent of pregnancies involve complicating conditions that, if left untended, may harm either mother or baby.
Preeclampsia is a pregnancy-only condition in which the expectant mother's blood pressure skyrockets around (or after) the 20th week of pregnancy, with symptoms including headaches, abdominal pain, shortness of breath, nausea, vomiting and blurred vision, according to the nonprofit Preeclampsia.org. Preeclampsia and related conditions can affect up to 8 percent of births in the U.S., according to the site.
While all this sounds super-scary, it's important to note that with proper care, most women with this diagnosis will fully recover and deliver healthy babies, Preeclampia.org noted, and Medical News Today added that as long as a mom-to-be attends her prenatal visits and follows her doctor's advice, extreme complications are rare. Thankfully, these celebs and their offspring are doing fine now, but they sure had to deal with a lot to get here.