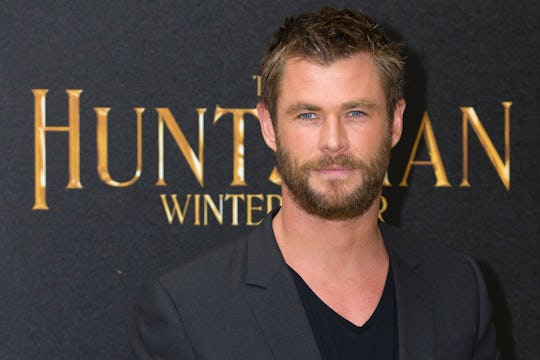 JUSTIN TALLIS/AFP/Getty Images
7 Chris Hemsworth Parenting Moments All Parents Can Learn From
Chris Hemsworth may play a Norse god in the movies, but he's a real-life superhero at home. The dad of three is seriously committed to parenthood; fans love seeing adorable Instagram posts featuring his kids. Though not everyone can take their kids to movie sets or spend long days on the beach in Australia, there are a number of Chris Hemsworth parenting moments all parents can learn from.
Hemsworth keeps busy taking care of three young kids, according to Australian publication Daily Life. He has one daughter, India Rose, and two sons, Tristan and Sasha (they're twins!). He and wife Elsa Pataky decided to make their home in Australia. Though Hemsworth's acting career is going wonderfully, he told Parade that the decision to settle down far away from Hollywood reflects his focus on family:
There are other things in my life now — family, kids. I don't want to have to be in the position where I care if the phone stops ringing. I'm OK about potentially not acting.
It's hard to imagine leaving behind a paparazzi-packed life of glamorous red carpets and surreal celebrity experiences, but Hemsworth isn't focused on it anymore. The actor told E! News what being a father teaches him:
I think it makes you less selfish, because it's no longer about you. It can't be. It's about someone else, which is refreshing. It's nice to not spend all your time thinking about your own problems and garbage up there and I just have so much fun doing it. It's the best. And now I'm a bit more choosy, I think, with when I work and how I work because it better be worthwhile to take me away from them.
And while it's probably a blast to film massive Marvel fight scenes, Hemsworth told Parade that spending time with kids is its own kind of fun:
I think [parenthood] brings out the child in all of us. That's what's so beautiful. It reminds you of the fascination you had with things, and how you can spend hours just being with someone. It's amazing.
It seems as though Hemsworth's drawn some beautiful insight from being a father. Here's what all parents can learn from his experiences:
Lesson No. 1: Small Acts Of Heroism Can Save The Day
Take it from Thor: you don't need to have superpowers to be a superhero. This week, Hemsworth baked his daughter's birthday cake when the bakery said it couldn't finish one in time, USA Today reported. Hemsworth posted a photo of the finished dinosaur birthday cake to Instagram with the caption:
What happens when the bakery says they don't have time to make your daughter a birthday cake? You get involved and smash one out yourself ! I call it "La TRex al la chocolate"
Pataky also posted a collage of her husband in action (shown above), captioned, "Papa working hard on India's birthday cake!" Hemsworth's commitment to giving his daughter a good day is totally swoon-worthy, but it's also a good reminder of the powerful impact of going above and beyond for kids.
Lesson No. 2: Healthy Habits Start Early
It's hard to believe, but Hemsworth told Men's Health that he'd never lifted weights before training to become Thor. Putting on 20 pounds of muscle is a bit extreme, but exercise is essential for everyone. In an Instagram post, Hemsworth is shown carrying his child on a treadmill; the caption reads, "The family who trains together, stays together!" Even if kids are too young to start a formal workout regimen, Hemsworth shows that it's never too early to lead by example.
Lesson No. 3: Take Your Kids To Work
Given Hemsworth's unusual job, it would be easy for his career and his family to exist in totally separate realms. Instead, Hemsworth ensures that his kids play a part in every area of his life. Pataky posted a photo of Hemsworth dressed as the Huntsman sitting with his daughter, captioned, "Visiting Papa on set!!" Working actors sometimes have to spend months away from home. Kids may not be able to spend time on set every day, but even a brief visit allows them to feel connected to their father during the moments when they can't physically be with him. Parents can feel pressure to keep their kids out of the office, but sharing that part of one's life with a child can make them feel included and help them understand why mom or dad can't spend all day at home.
Lesson No. 4: All Time Together Is Quality Time
Any parent who balances a career with having kids feels pressure to make family time matter. Luckily, that doesn't have to mean working on a three-hour craft or having a meticulously-planned picnic in the park. Pataky posted a photo of Hemsworth making a late-night snack with his daughter after attending the premiere of The Huntsman: Winter's War. Stealing a moment with India Rose at the end of the night is meaningful and memorable; some of the best memories come from spontaneous hangouts.
Lesson No. 5: Share Your Interests With Your Kids
Young children often love to follow the lead of their parents; it's a great time to share interests and introduce them to favorite family activities. Pataky posted this Instagram photo of Hemsworth and India Rose doing yoga on the beach: "Like father like daughter! Make a space in your life for the little moments that count the most." Finding an activity to share with a child opens the door to plenty of opportunities for bonding.
Lesson No. 6: Stick Together
The older kids get, the more difficult it can be to get the whole family together. Take advantage of early childhood to make as many memories as possible, whether that's going to a festival or just grilling out in the backyard. Spending time one-on-one with each child is great, but there's nothing quite like having everyone in the same place. As Pataky wrote, "together everything is better!"
Lesson No. 7: Give Plenty of Hugs.
To a child, there are few things more meaningful than a big hug and kiss from their parents.
Hemsworth is figuring out parenthood like everyone else, but it's clear that he finds family life totally enchanting.