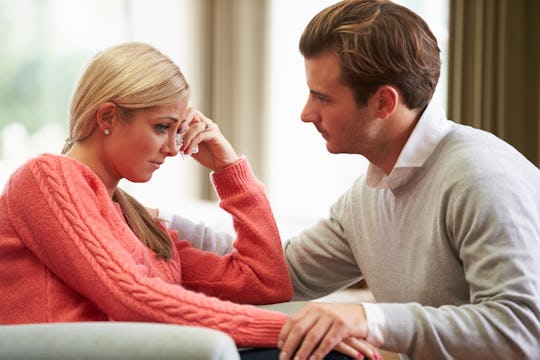 Monkey Business/Fotolia
7 Conversations Every Couple Should Have After A Miscarriage
No matter if a pregnancy was planned or a surprise, most parents who experience a miscarriage undoubtedly ache for the loss of their child. Miscarriages are often kept secret, whether it is because you feel that you don't have anyone who can relate, or you are just not ready to relive the loss over and over again. But discussing your miscarriage with your partner can help you both during this time of grief, and there are certain conversations every coupe should have after a miscarriage to keep things a little more steady.
According to WebMd, 15 to 25 percent of recognized pregnancies end in miscarriage. The data indicates that the number can be as high as 50 percent when taking into account undetected miscarriages that can occur before a woman misses her menstrual period. With so many parents choosing to wait until their second trimester and beyond to announce their pregnancy, it's likely that you have friends and relatives who have silently gone through miscarriages. Reaching out to the members of your community and being open about your loss can not only help you work through your sadness, but it may help others who have experienced it, as well.
Before turning to others, however, it is important to open the lines of communication with your partner. Here are some important conversations every couple should have after experiencing a miscarriage.