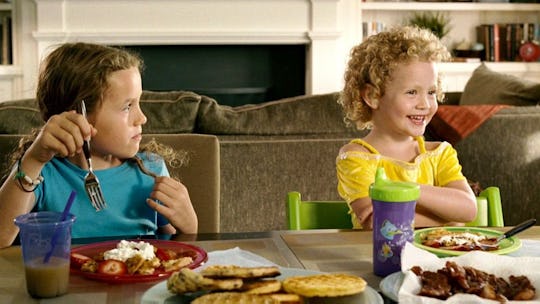 7 Conversations Every Parent Has Had With Their Preschooler, Including Questions We'd Rather Not Know The Answers To
I'm a firm believer that great listeners go on to become great parents, since most kids have an innate tendency to babble incessantly. Wait—nope. Scratch that. The blabber-mouthing tendency is likely our own fault as parents. Hear me out on this: My husband and I spent our children's entire first year of life, ooh-ing and ahh-ing over every coo or raspberry noise they made. We coached and encouraged, waiting with bated breath to hear them utter their first words. 
We would live to regret all that "dumb" encouragement and adoration we showered upon our children's budding attempts at verbal communication. 
We needn't have worried, pressed, or prodded though, because those words came eventually. Instead, we should have been relishing in the quiet while it lasted. Now that we have a preschooler, we can't get him to shut up for the life of us. I'll spare you the gruesome details, but suffice to say that the word "why" sends me directly to the dark place at this point. Not to mention all the times I've had to discuss the merits of a particular superhero or Paw Patrol member ad nauseum and usually at bedtime. It's getting so real.
Whether you lucked out with a quiet child, or ended up with a chatty little buddy, rest assured that the preschool years will be ripe with titillating conversations. (I'm lying. They are the most boring conversations you'll ever be a part of without someone paying you to participate in them. And assuredly, among them will be these 7 conversations all parents have had with their preschooler.)