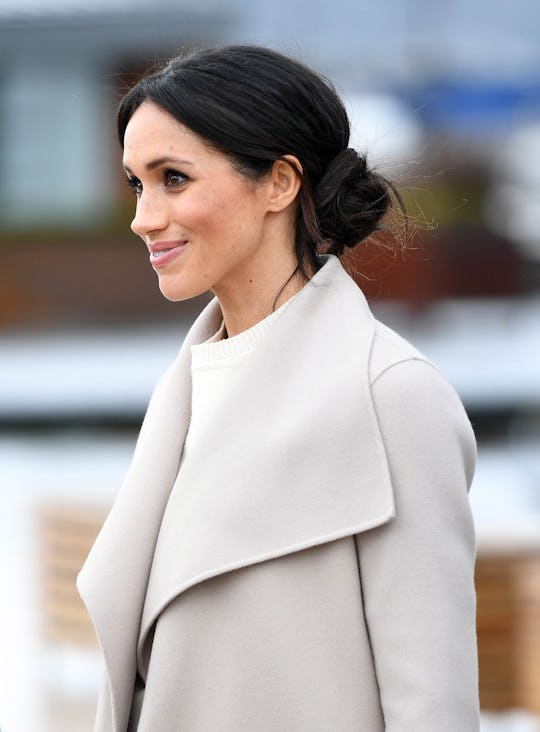 Pool/Getty Images Entertainment/Getty Images
7 Cute Meghan Markle-Approved Flats That Your Feet Will Totally Thank You For
We all know that whatever the Duchess of Cambridge, Kate Middleton, wears sells out quickly and instantly becomes a hit item. The Duchess of Sussex, Meghan Markle, is turning out to be no different, and many of the pieces she wears sell out just as fast. Her shoes. Luckily she's not one to only rock heels, and these flats that Meghan Markle has spotted wearing will not only elevate your closet, but show your feet some love. The only problem is that some of the styles are so expensive they'll sell out before you save up your pennies to purchase them — but you'll probably wear them every day, right?
The Meghan has a penchant for classic, traditional flats, and many of the flats you'll see her wearing come from the brand Sarah Flint. The Duchess is in good celebrity company in liking Flint's shoes, as Jessica Alba and Cindy Crawford enjoy them as well. Flint studied at Parsons School of Design before doing a graduate degree in Italy to learn the finer points of shoe production, according to her website, and now she's making footwear pretty enough to grace the feet of royalty. Not too shabby!
If you're taking a fashion cue from the new royal, keep restraint in mind. And what she lacks in flash, she makes up for with luxury. And if you're eyeing whatever the Duchess is sporting on her feet, you'll want to get shopping quickly before it sells out! Here are a few Meghan-approved flats to start with.