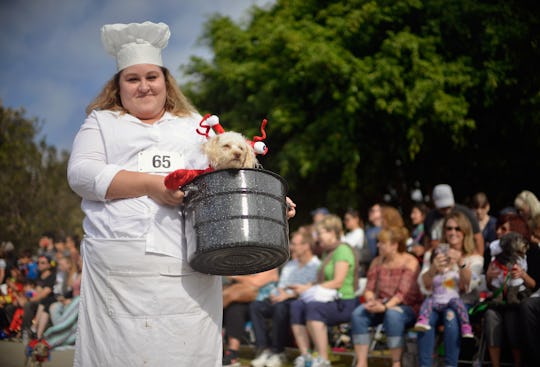 Chelsea Guglielmino/Getty Images Entertainment/Getty Images
7 Halloween Costume Ideas For Those Dressing Up With Your True BFF, Your Dog
Dressing up for Halloween is always fun, but dressing up with your dog takes the whole holiday to the next level. I mean, the cuteness factor alone is off the charts. So to help you and your BFF make the most of this holiday, these dog and human costumes for Halloween 2018 will offer up some serious inspiration. Whether you dress as heroes, villains, or something else entirely, you're all set to make Halloween history with your pup.
Plus, more and more families are including the family pets in holiday celebrations, and this includes Halloween in a big way. In fact, picking out a costume for Fluffy or Spike is pretty much a holiday tradition at this point. "One of the biggest trends this year is the growth of spending on pet costumes," Prosper Insights Executive Vice President of Strategy Phil Rist said, according to the National Retail Federation. "Out of the 31.3 million Americans planning to dress their pets in costumes, millennials (25-34) are most likely to dress up their pets, the highest we have seen in the history of our surveys." If millennials are making pet costumes more prominent, well, we're doing something right as a generation.
So here are a few different costume pairings you and your pooch can use this Halloween. Of course, please feel free to use these suggestions as a starting point and let your own creativity shine. Whatever you choose to wear this Halloween, hopefully you and your canine companion will enjoy a lovely holiday.