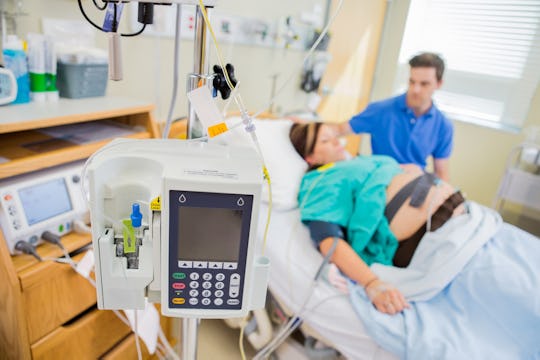 Tyler Olson/Fotolia
7 Early Signs You're Going To Need An Epidural, According To Experts
Even if you've constructed an elaborate birth plan, it's impossible to control every aspect of labor and delivery. Complications can occur, proactive measures might be necessary, and your mind is subject to change when those damn contractions really hit. In other words, even if you don't plan on having an epidural, sometimes it's necessary. In fact, there are some early signs you're going to need an epidural, according to the experts, that every pregnant woman should be made aware of.
According to the American Pregnancy Association (APA), an epidural is the most popular form of pain relief during labor. In fact, more than 50 percent of pregnant women in the United States choose to have an epidural during childbirth. According to the APA, an anesthesiologist will administer the epidural by asking you to "arch your back and remain still while lying on your left side and sitting up." Then an antiseptic solution is administered to minimize the chance of infection, a small area in your back is injected with a local anesthetic to numb it, and "a needle is inserted into the numb area surrounding the spinal cord in the lower back." The same site says there are two epidurals a laboring woman can choose from, a regular epidural or a combined spinal-epidural (also known as a walking epidural).
While there are pros and cons to each type of epidural, or choosing an epidural in general, every pregnant woman should know that, according to the APA, an epidural isn't an option if the patient uses blood thinners, has low platelet counts, is hemorrhaging or in shock, has an infection in the back, has a blood infection, isn't at least 4 centimeters dilated, the epidural space can't be located by a physician, or labor is moving too fact for the drug to be administered.
But if it's safe for you to consider using an epidural during childbirth, here are some early signs that a medicated birth is the right choice for you: