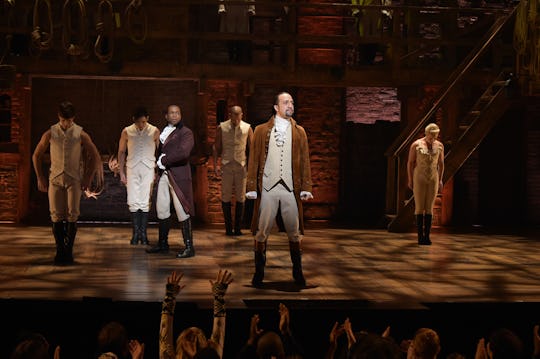 Theo Wargo/Getty Images Entertainment/Getty Images
7 Easy 'Hamilton' Costumes For Kids Who Love The Broadway Hit
If you were lucky enough to score Hamilton tickets, then not only are you the envy of your neighborhood, but you have a leg up in creating easy Hamilton costumes for kids, come Halloween. However, you don't have to have seen the hit musical to be caught up in Hamilton fever and honor the Tony-winning play this Halloween. And bonus points if you and your kids create the costumes while jamming out to Lin Manuel Miranda and his crew.
The hit Broadway show Hamilton is not only educational, weaving stories of the immigrant experience into the biography of the "ten-dollar Founding Father," it has costumes that are on fleek.
But don't worry — you don't have to be a designer to recreate the gorgeous, historically charged, and patriotic Hamilton duds for your kid to wear on Halloween. In fact, many of the elements for the following costume ideas can be found in your kid's wardrobe. And if you do need to go out any buy clothing for Hamilton costumes, you can definitely repurpose the outfits this winter. The United States of America has come a long way since its Valley Forge days, but these easy Hamilton costume ideas will have your kids getting the nostalgic feels come Halloween.