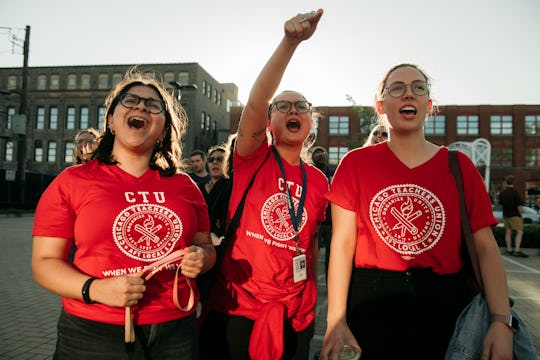 Scott Heins/Getty Images News/Getty Images
As Chicago Teachers Continue To Strike, Keep These 7 Facts In Mind
With children home from school during a strike, schedules messed up and parents struggling to cover care, it can be easy to point fingers at teachers as the ones throwing things off balance. But the reasons behind teacher walkouts are complex and varied, and with Chicago Public Schools (CPS) in the headlines right now, it's important to keep these facts about teachers strikes in mind.
Currently, teachers in Chicago are in the midst of a massive strike. In total, about 32,000 CPS teachers and their support staff are on strike, according to NPR. This is the third time that teachers in the city have walked out since 2011, underlining the need for change and communication between schools and government officials, PBS affiliate WTTW reported. The most recent strike follows the expiration of the Chicago Public Schools teachers' most recent contract earlier this year. Teachers explained at the time that if a new contract wasn't reached by Oct. 17, they were going on strike. A deal was never struck and the teachers went on strike — they're now entering day nine.
It's easy to think the issues that led to this are simply related to money, and finances are a big factor, but as one CPS teacher, who's participating in her third strike and spoke on the condition of anonymity, tells Romper, it's more complex. "It's not just about the money," she says, "it's about resourcing all of the schools in an equitable way — improving teaching, working, and learning conditions."