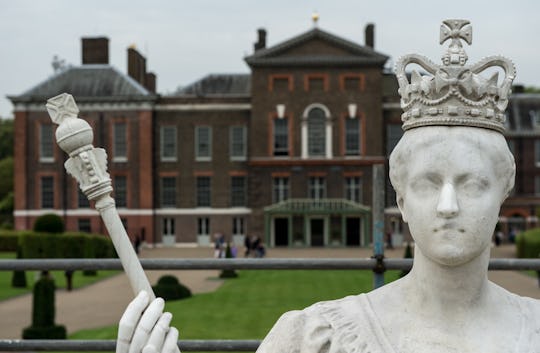 Chris J Ratcliffe/Getty Images News/Getty Images
7 Facts About The Royal Family's Apartment That Will Blow Your Mind
In the wake of Prince Harry and Meghan Markle's nuptials Saturday, don't be surprised if you find yourself in a sort of royal wedding hangover. Millions of viewers from across the globe tuned into the highly-anticipated event — and now it's over. What's a royal enthusiast to do now? Those who are still looking to get their royal family "fix" are likely combing the internet for new details about the wedding, what the newlyweds have planned next, and pretty much anything and everything they can get their hands on about the royal family in general. As we all adjust to life post-royal wedding, here's are seven facts about the royal family's apartment that will blow your mind.
If you're sitting there thinking, "But wait, I thought Prince William, Middleton, and their three children lived at Kensington Palace? What's with this apartment business?" you would be correct. See, the enormous palace is actually sectioned off into apartments. William and Kate previously lived in Nottingham Cottage (which is part of Kensington Palace) from 2011 to 2013, before Prince Harry — and Meghan Markle after their November 2017 — moved in, Forbes reported. In 2013, William and Kate relocated to Apartment 1A after the birth of Prince George. Although William, Kate, George, and Charlotte lived at Amner Hall on Queen Elizabeth II's estate in Norfolk following Princess Charlotte's birth in 2015, the family of four ultimately returned to their Kensington Palace apartment in 2017. Got it? Good.
So let's get down to it, shall? Here are seven facts about Apartment 1A at Kensington Palace — AKA Prince William and Kate Middleton's digs — that you probably didn't know.
1. It Has 20 Rooms & Four Floors
Let's just say if Prince William and Middleton decide to eventually add to their family, there would be plenty of space to go around. The Duke and Duchess of Cambridge have four floors of living space to call their own, E! Online reported. Of the 20 rooms in their apartment, there are: Two master bedrooms, two nurseries, two living rooms, a kitchen, a guest bedroom, three principal bathrooms, nine bedrooms for staff on the top floor — as well as a gym, a laundry area, and a luggage room on the basement level.
2. The Duke & Duchess Of Cambridge Share A Bedroom
You'd think that a married couple sharing a bed would be NBD. (I mean they do have three children together, after all.) But apparently it is. Although there are two master bedrooms on the first floor, Prince William and Kate Middleton have broken royal tradition and opted to share a bedroom, Curbed reported. (The horror!) However, they still chose to have separate bathrooms. (Whew!)
3. It's More Than 400 Years Old
The residence was built all the way back in 1605, Glamour reported. And originally it was a mansion called Nottingham House for one of London's wealthy businessmen, Sir George Coppin. Prince William and Kate Middleton's apartment formerly belonged to William's great-aunt, Princess Margaret.
4. The World Got Its First Glimpse Of The Inside Of William & Middleton's Apartment When The Obamas Visited In 2016
In April 2016, Barack and Michelle Obama spent time at the home of Prince William and Kate Middleton as part of a larger visit to the United Kingdom, Time reported. The Obamas had an opportunity to dine with the Duke and Duchess of Cambridge and Prince Harry during their stay — as well as a chance to meet Prince George in his pajamas. Photos from that day showed for the first time what the inside of their Kensington Palace apartment looks like.
5. They Have Like, A Really Expensive Rug
Prince William and Kate Middleton have a Persian rug worth roughly $50,000, Curbed reported. It's located in the entrance hall, and it's on loan from the royal treasure chest. But still. I wonder if Prince George or Princess Charlotte are like my kids, and colored all over it with markers? Part of me hopes there's at least a Kool-Aid stain on it.
6. It's Haunted
Royal experts claim that Kensington Palace is apparently haunted by at least three ghosts — George II, Caroline of Brunswick, and Princess Sophia — The Sun reported. King George can reportedly be found in the King's Gallery moaning his last words, "Why won't they come?" Glamour reported. Apartment 1A in particular has been the place where ghosts like to hang out, according to the publication. I wonder if William, Kate, or any of their children have spotted anything supernatural during their time there?
7. There's A Panic Room In Case Of An Attack
I mean, a royal couple and their children live there; of course there are going to be some extensive safety measures in place. In addition to video cameras in every room and mesh curtains designed to catch shattered glass on every window, there is also a panic room within Prince William and Middleton's apartment, Curbed reported. This room is "dressed up to look like any room in the house, but it's equipped for a number of scenarios," according to the publication.
So there you have it. I may not be Michelle and Barack Obama (who have actually been there IRL,) but it sort of feels like I've been to Kensington Palace now that I have all of this knowledge about Prince William and Kate Middleton's home. Don't get me wrong — I'd still love to see it for real one day, as slim as those chances are. Just as long as they get rid of the ghosts first.