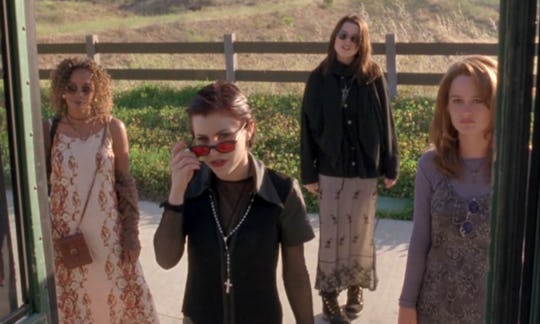 Screenshot/Youtube
These Feminist Halloween Flicks Will Keep You Spooked This Halloween
Horror is not necessarily known for being a paragon of feminist ideals, but these seven feminist Halloween flicks prove that a smattering of scary movies do exist in which female characters come out on top. In fact, the original Halloween, released in 1978, spurned its very own feminist horror trope — the Final Girl — in which the last woman alive in a horror film is the one who finally confronts the killer and sets the world straight again.
Halloween just released the eleventh movie in its franchise, with original star Jamie Lee Curtis, and shattered box office records. Curtis ticked off its accomplishments on Twitter, noting, "Biggest horror movie opening with a female lead. Biggest movie opening with a female lead over 55. Second biggest October movie opening ever. Biggest Halloween opening ever."
So feminist victories are possible in the genre! But if the idea of heading out to the movies on actual Halloween when masked people are roaming the streets sounds like your personal nightmare fuel, worry not. There are plenty of classic options you can watch from the comfort of your own home while eating all the candy you're supposed to be doling out to trick-or-treaters. Here are some good places to start.