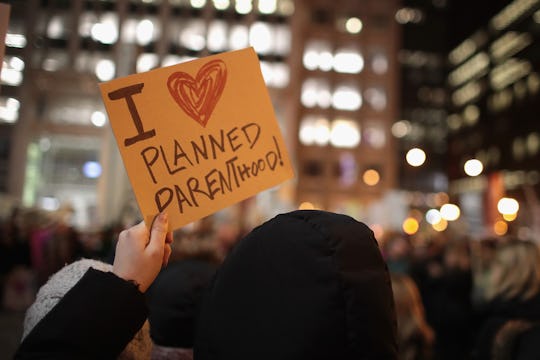 Scott Olson/Getty Images News/Getty Images
Support These Non-Profits On Int'l Women's Day
Touting a theme of #BeBoldForChange, 2017's International Women's Day will be celebrated "to help forge a better working world — a more inclusive, gender equal world." If you're free to participate on March 8, you'll find yourself in great company. But if you're unable to join in, maybe consider a donation instead. This list of seven feminist non-profits to support on International Women's Day (IWD) provides an array of equality-driven organizations that are working to support IWD's goals.
In some way or another, the non-profits on this list are challenging bias and inequality, campaigning against violence, forging women's advancement, celebrating women's achievement, and championing women's education, for everyone's benefit, regardless of gender. Ranging in scope and scale, the feminist non-profits are committing time, money, and resources to women all around the world. Read through and you might find an organization that catches your eye — and your dollar.
And if donating money just isn't in the cards for you right now? You can definitely still participate by finding International Women's Day events near you. From fun runs to award ceremonies to marches, countries everywhere are celebrating women's empowerment. Additionally, if you're able, consider participating in A Day Without A Woman — the Women's March On Washington's follow-up to the momentous worldwide protests that gathered on Jan. 21.
She Should Run
Know someone who's destined for office? She Should Run encourages "women and girls to aspire towards public leadership" — because women are just as likely to win elected office as men, they just don't run with the same frequency. Support their inspiring programs here.
Women For Women International
Women for Women International "has helped more than 447,000 marginalized women in countries affected by war and conflict" by offering access to much-needed resources, skills, and training. Donations can get personal — the non-profit's Sponsor a Sister program delegates your monthly donation to another's "intensive training for the essential job skills she needs to earn an income and support her family."
Girls Who Code
Girls between the ages of 13 and 17 are lagging behind in computer science skills, despite the intense rise of tech jobs. Girls Who Code aims "to close the gender gap in technology" with after school clubs and summer programs. Contribute to the cause here.
The American Association Of University Women
Founded way back in 1888, The American Association of University Women works to promote both equity and education. A variety of initiatives work to close gaps in educational opportunities as well as the workplace. Help them break more glass ceilings with your donation.
National Organization For Women
An intersectional organization prioritizing LGBTQ rights, racial justice, and other important causes, the National Organization for Women is worthy of some major recognition. You can support NOW by becoming a member, donating to the cause, or both!
Planned Parenthood
You probably expected to see this one on the list because, sadly, women's rights and health care are under heavier fire than ever these days. Donating to Planned Parenthood can help more women "live strong, healthy lives and fulfill their dreams — no ceilings, no limits."
The World Association Of Girl Guides & Girl Scouts
The World Association of Girl Guides and Girl Scouts (WAGGGS) is International Women's Day's official charity of choice, so all IWD donations made actually go to WAGGGS. Focusing on improving self-esteem and promoting leadership skills, WAGGGS helps strong girls become even stronger women. You can donate here.
Whichever non-profit you choose, know that you're making as much of a difference as your neighbor who marches, your co-worker who strikes, and your best friend who is organizing a women's rally to celebrate her sisters — because every little bit helps.