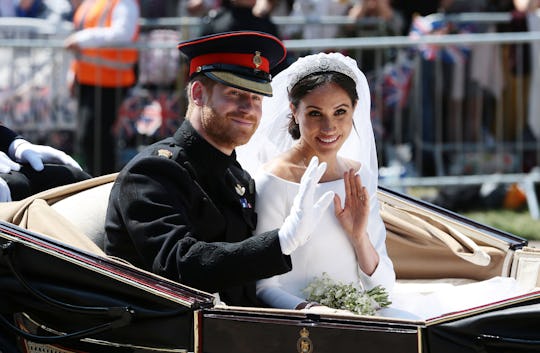 WPA Pool/Getty Images Entertainment/Getty Images
7 Fun Facts About Meghan Markle & Prince Harry's Royal Relationship
There's a lot the world knows about Prince Harry and his brand new Duchess, Meghan Markle. After spending his entire life as one of the most photographed and documented individuals in the world, Meghan Markle got her taste of fame as an actress, prior to meeting her literal prince. But as far as the intricacies of their relationship go, don't forget that royals reign supreme (ha, get it?) at being super diplomatic and classy. Though it's entirely possible that Harry and Meghan have arguments like every other couple alive, it's also possible that there is a bunch we don't know about what their relationship is really like. That's why these seven fun facts about Meghan Markle and Prince Harry's relationship are just so interesting. They are royals, yes,, but they are so, so sweet.
Town and Country reported that Harry and Meghan were set up on their first date in July of 2016, though a mutual friend. After a whirlwind courtship, Harry proposed to his girlfriend in November of 2017. In their first BBC interview post-engagement, Harry revealed that he fell in love with Meghan "so incredibly quickly," and that he took everything as a confirmation that the "stars were aligned" for them to be together. In May of 2018, the couple wed in one of the most watched television events of the century (as royal weddings tend to be). Now, Harry and Meghan are settling into their new as newlyweds and into their new roles in the royal family... but that doesn't mean there isn't a ton to love about them.
1. Harry Had A Crush On Meghan Before He Met Her
It's not surprising that Prince Harry had known about Meghan before he was introduced to her, given that she was, you know, a television star and all that. Screenrant.com reported that royal expert Katie Nicholl said the following about Harry's first interest in his future wife:
He had a crush on Rachel Zane two years before he met Meghan and the reason I know is because I was having drinks with one of his friends. She told me she'd been on a night out with Prince Harry. He was single at the time, so she said, 'Harry, who's your ideal girl?' And he said 'Meghan Markle from Suits.'
2. But Meghan Didn't Know Much About Harry Before They Were Set Up
In their first BBC interview post-engagement, Meghan talked about how she didn't grow up knowing a lot about the royal family, which was, as she described, ultimately refreshing for her. "Because I'm from the States, you don't grow up with the same understanding of the royal family," she said. "I didn't know much about him, so the only thing that I had asked [our mutual friend] when she said that she wanted to set us up, was, 'Well is he nice?' Cause if he wasn't kind, it just didn't seem like it would make sense."
3. They Got Engaged Over A Roast Chicken
In sharing their engagement story, Meghan explained that the two were having a relaxing evening in roasting a chicken, when Harry got down on one knee. News.sky.com reported that Meghan claimed she wouldn't even let him finish proposing before she rushed in to say "yes!"
4. Meghan Reportedly "Wears The Trousers" In Their Relationship
An "insider" told People that when it comes to their relationship dynamics, Meghan is in charge. "She is definitely the one wearing the trousers in their relationship," they said. "She is a strong, opinionated woman who has her own ideas about things, and that's one of the things he loves about her."
5. Meghan Is Reportedly A Great Influence In Harry's Life
Royal reporter Duncan Larcombe, who has been covering the family for over a decade, told People that since his relationship with Meghan, Harry has been more willing to talk about his past. In particular, he was more willing to discuss the trauma of losing his mother. Women's Health also reported that Meghan helped him to stop smoking, get healthier, and party less.
6. As For His Influence In Her Life, Meghan Is Even Starting To Sound Like Harry
CNN reported that in a recent fan video, Meghan can be heard greeting a crowd in what sounds to be a slightly British accent. The Guardian later explained that it's normal to adapt your speaking to those you are around, especially if you like the people you're spending time with, or want to impress them.
7. They're Living Happily Ever After In An Apartment In Kensington Palace
Today reported that Meghan Markle and Prince Harry will be spending the foreseeable future in Apartment 1 of Kensington Palace, which is also where Harry lived with Princess Diana when they were young. All in all, it's truly a fairytale for the storybooks, and we get to watch it play out IRL.