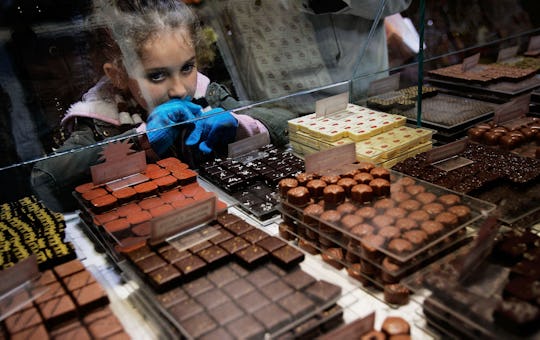 Chris Hondros/Getty Images News/Getty Images
7 Gluten-Free Easter Candy Options To Make Your Tastebuds Hop
While the first day of spring doesn't necessarily bring with it warm weather, it can often bring us a week closer to Easter, and that makes me excited. Not because of the frilly dresses, and wished to be forgotten pictures with the Easter Bunny, but mostly because of the incredible amounts of delicious Easter candies that are available for consumption. But if you or your children suffer from Celiac disease, you may be in need of some gluten-free Easter candy to fill all those Easter basket.
Now, it's important to note that gluten-free candy should not be a substitute for healthy candy. In many cases, gluten-free candies and foods contain the same amount of calories and fat as their gluten-filled counterparts. The only difference is the absence of gluten, a protein found in wheat that helps food maintain its shape, according to the Celiac Disease Foundation. It is important that people with a gluten intolerance or suffer from Celiac disease avoid the protein at all cost, even if it means sacrificing their favorite Easter treats.
But luckily, you don't have to stray too far from the traditional treats to make a gluten-free Easter basket. Surprisingly, a lot of your favorite candies are already gluten-free. Ready for the proof? Check out these popular, gluten-free Easter candies to stuff in your little bunny's basket.