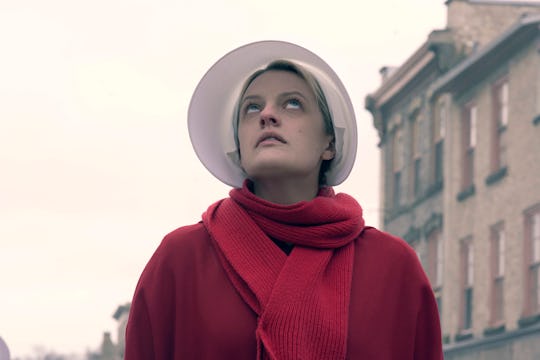 Elly Dassas/Hulu
No One Ever Gets A Break On 'The Handmaid's Tale,' Apparently
Watching The Handmaid's Tale on Hulu can be such a tense experience that you may find yourself wishing for spoilers from time to time just so you can relax a little. There are no spoilers to be found here, but plenty of speculation about what might happen on the show. These 7 Handmaid's Tale Season 3 theories try to predict the course the current season will take. They might not be true, but they're pretty convincing.
The first five episodes of Season 3 set up a major conflict between Gilead and its neighbor to the north, Canada. In Season 2, June managed to get her infant daughter across the border to apparent safety, but now Fred and Serena Waterford know exactly where Nichole is. And they want her back. That could have ramifications across the board. Nichole has about five different parents trying to do what they think is the best thing for her, and a lot of those opinions conflict with each other. All of the characters are in increased danger because of this. It could even affect the tense relationship between Gilead and Canada.
There are many possibilities when it comes to the future of The Handmaid's Tale, and here are 7 of them.