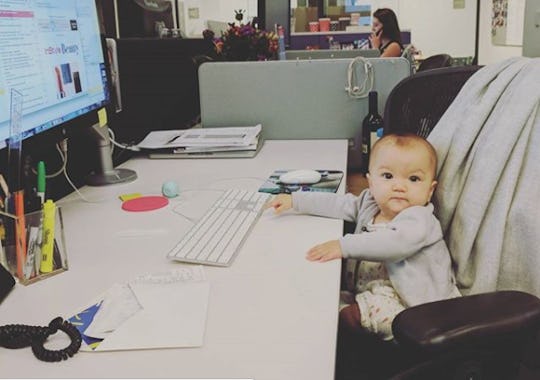 Courtesy of Anne Vorrasi
7 Hilarious Take Your Child To Work Day Memes For Parents Brave Enough To Participate
Workplaces all over the United States are about to be overrun with kiddos as a part of the official Take Our Daughters and Sons to Work Day 2018. It's an important opportunity to introduce kids to the real-life activities that take place at a modern workspace. That said, trying to explain your daily duties to a bunch of hyper tweens, kids, and toddlers, is not always easy. So if you need a laugh, these hilarious Take Your Child To Work Day memes are perfect for a bit of comic relief. Hey, if you're going to be an employee and a parent at the same time, you'll probably need something to help you destress.
Since 1993, the organization now known as Take Our Daughters and Sons To Work Foundation has advocated greater understanding of career choices for children. Much more than a simple career day, the Take Our Daughters and Sons to Work organization advocates mentorship, education, and dreaming big for the future. Best known for starting Take Our Daughters And Sons To Work Day, the foundation provides an opportunity for children across the nation to get a firsthand look at workplaces everywhere. In fact, over 37 million Americans get involved in Take Our Daughters and Sons to Work Day, according to Forbes. It's a highly influential, positive introduction to careers for so many kids. Instead of vague ideas about what grown-ups do all day, kids who participate in the program get a first-hand view of the workforce. It's an invaluable life lesson.
That said, the logistics of having a child shadow you throughout the workday can lead to some interesting moments. Even on their very best behavior, kids are still kids. A little bored whining, demands for snacks, and complaints about a lack of nap time are to be expected (from your coworkers but maybe even your child, too). Although they might sink your productivity a little bit, at least you'll enjoy a memorable family day at the office.