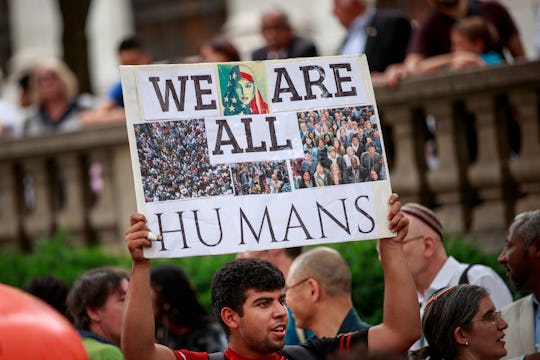 Drew Angerer/Getty Images News/Getty Images
7 Inspirational Quotes For Families Belong Together Signs
On Saturday, June 30, non-profit and advocacy groups such as the ACLU, Leadership Conference on Civil Rights, National Domestic Workers Alliance, and MoveOn are organizing the Families Belong Together march in Washington, D.C. The rally is in response to President Trump's immigration policies, which separated nearly 3,000 children from their parents at the U.S.-Mexico border. Despite the fact that the president has since reversed the policy and made a motion to reunite families, there are still thousands of displaced children in government detention centers. The message behind protests is that this kind of behavior and treatment is not OK, and these seven inspirational quotes for Families Belong Together signs can help you communicate that to the government.
Thrillist reported that the protest will take place from 11 a.m. to 2 p.m. in Lafayette Square in Washington D.C., and even offered a short guide on effective messaging for those who want to protest. It explains that you want to keep protest signs concise and straightforward, and ultimately, want to sum up the message as effectively as you can.
"The Trump Administration is breaking up families on American soil. The administration is ripping toddlers from their mothers' arms at the border. An overburdened system is now being bombarded as hundreds more are sent to custody for no good reason," the guide explains. "Dreamers remain in limbo. Mothers and fathers raided at their workplaces and taken away from their children. Parents, once protected by TPS, now having to decide whether they leave their American children behind or take them with them to dangerous countries. Children have become the victims in Trump's America. This shouldn't be our nation's story or legacy."
1. "Families Are The Foundation Of Society"
Families are the building blocks of society and culture. The New York Times reported that the "family is the nucleus of civilization and the basic social unit of society," and that regardless of how you define the term, stronger families equate to a stronger country, and ultimately, a stronger world.
2. "You Can't Choose Family. You Can Choose Freedom."
One important point about the immigration legislation is that many of the families detained entered the U.S. seeking asylum, which means that they were trying to flee dangerous or war-torn circumstances, according to NBC News. The point is that the family you are born into isn't optional, but trying to flee to save your life is. NBC News explained:
Asylum is a form of relief recognized under international law and written into U.S. law. People may seek asylum in the United States if they have been persecuted in their home countries or fear persecution there based on their race, religion, nationality, or membership in a particular social or political group.
3. "Family Is Not An Important Thing. It's Everything."
Beyond being just a political issue, family separation and immigration policy is a moral one, too. Appealing to policymakers by advocating for empathy is just as important as sharing facts and figures.
The Guardian reported that back in May, Ivanka Trump shared a photo with her baby son, sparking a slew of comments asking her to imagine how it would feel to have him taken away from her. As of June 20, however, Vox reported that Ivanka has remained silent on the issue.
4. "Our Children Are Our Future"
The American Academy of Pediatrics, American College of Physicians, and the American Psychiatric Association all issued statements in protest of separating children from their parents, arguing that it constitutes child abuse and can have detrimental long-term consequences, Vox reported.
President of the American Academy of Pediatrics Dr. Colleen Craft told CNN that the "toxic stress" she witnessed firsthand has the potential to "disrupt their brain architecture and keep them from developing language and social and emotional bonds and gross motor skills," The Daily Mail reported. The Independent also reported that the process of separating kids and parents mirrors a "textbook strategy" of child abuse.
5. "Ohana Means Family. Family Means Nobody Gets Left Behind, Or Forgotten."
This Lilo & Stitch quote seems perfectly appropriate for the occasion. As parents are prosecuted for illegal entry without paperwork, children are left behind in governmental withholding centers. CNN reported on Wednesday that despite the policy reversal, only six children had been reunited with their families in six days, leaving more than 2,000 still displaced. The point is to emphasize that it's morally and ethically wrong to enforce a policy that leaves the most innocent and vulnerable among us, children fleeing dangerous countries, separated and quite literally left behind.
6. "We Start And End With Family"
Further emphasizing the point that family and the wellbeing of children needs to be prioritized above all else, the idea that we "start and end" with family is just a reminder that at the end of the day, nobody will care about you, be there for you, or be loyal to you in the way that family will. You start your life surrounded by family, and you will likely end your life surrounded by family. Family is everything, and needs to be prioritized as such.
7. "Family Is The Most Important Thing In The World"
This quote was said by Princess Diana, according to The Telegraph, and is not only a reminder that family is important, but the use of the term "in the world" is crucial in that it is a reminder of how unified we all are on this. No matter who you are or what country you're from, family should be honored and prioritized for everyone, regardless of circumstance.