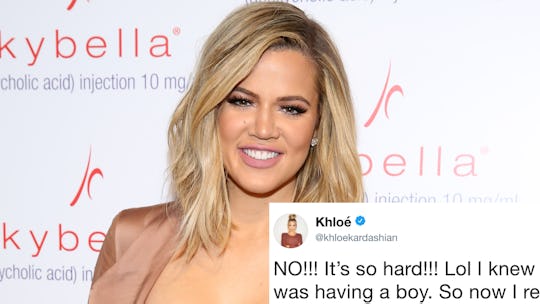 Cindy Ord/Getty Images for Allergan
7 "K" Names For Khloé Kardashian's Baby, Because Fans *Cannot* Wait
When it came to naming their daughters, both Kylie Jenner and Kim Kardashian kept the decision-making process away from the public. They both named their daughters in private, announcing their choices on social media in the days following their babies' births. However, the third KarJenner sister to have a child in 2018, Khloé Kardashian, is doing things a little differently. On Sunday night's episode of Keeping Up with the Kardashians, she revealed to the world that she is expecting a baby girl. Soon after, Kardashian took to Twitter for name recommendations — and fans delivered, suggesting endless names for Khloe Kardashian's upcoming baby.
On multiple occasions, Khloé expressed her premonition that she was expecting a boy. "I am pretty much convinced that I am having a boy," she said in a Keeping Up with the Kardashians promo. "I have such anxiety and nerves to find out what I'm having." In the episode, Khloé found out the news from Kylie over the phone. She was shocked and seemingly a bit disappointed at first, but as she explained on Twitter, she quickly got over those initial feelings.
"God gives us what we need! His timing is never wrong! 👶🏽 my hormones were IN RARE FORM for that news," she tweeted. "I am now so excited my daughter will have forever best friends with Chicago and Stormi!! God is great!!! Thank you Lord for our princess 👑 👶🏽💗."
A fan then asked Khloé if she has a name picked out for her daughter yet, to which she replied, "NO!!! It's so hard!!! Lol I knew the name if I was having a boy. So now I really have to figure this out 🤦🏼‍♀️."
Then, a fan asked Khloé if she'd be following her family's tradition of "K" names, to which she responded both "K" and "T" (for her partner and baby daddy Tristan Thompson) names were both on the table, with an emphasis on "T" names.
That being said, fans were unsurprisingly super psyched that "K" names are still on the table. None of Khloé's siblings kept the "K" tradition going when naming their babies — but perhaps Khloé will change that. Here are seven "K" names suggested by Khloé's fans.