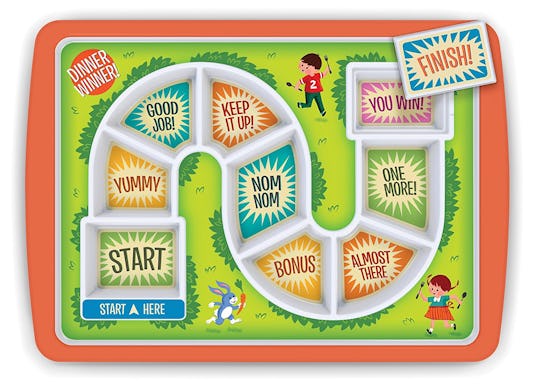 Amazon
7 Meal Time Accessories to Get Your Picky Eater Excited About Their Dinner
When I was a youngster, I lived on macaroni and cheese, peanut butter and honey sandwiches, and my mom's homemade cookies. I refused to try anything new. I vividly remember ordering French toast on a family vacation, only to have an absolute meltdown when it arrived topped with powdered sugar. What is this stuff?! If you have a picky eater of your own — or a child that has more important things to do than eat a meal — you could use a list of kids' dishes to get them excited about dinner time. If your culinary prowess doesn't entice them, maybe these dishes will, right?
There are a variety of reasons your child might be refusing dinner. Maybe they snacked too much or drank too much milk or juice beforehand. Maybe they're coming down with something. Maybe they're exhausted. Maybe they're distracted. While all of those factors should be taken into consideration, getting fun dishes and utensils is a great (and easy!) way to make mealtime seem more enjoyable. Get a collection going, and they can handpick what they want to eat with — being involved in the process can also be beneficial for children.
And when you start losing patience with your picky eaters, know that there is hope. I'm proud to report that I will now eat virtually anything anyone puts in front of me. Well... proud and a bit ashamed. Your child may turn into a fellow bottomless pit, and these dishes may just be step one.