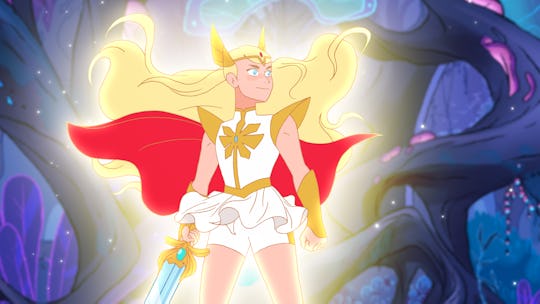 Netflix
Here Are All The New Kids' Shows To Watch Out For On Netflix In November
While adults eagerly await House of Cards' final season and/or Collection 6 of The Great British Baking Show (both drop on Netflix next month), these 7 kids shows coming to Netflix this November will keep younger screen-time devotees entertained. Along with the return of shows like Spirit Riding Free, Spy Kids: Mission Critical, Treehouse Detectives, Ponysitters Club, and Beat Bugs, Netflix also has some new original content coming down the pipeline. And, because the holiday season is approaching, there is, of course, one Netflix original Christmas movie already dropping next month, just to tide you over until they kick it into high gear in December.
One very high-profile reboot in the mix is She-Ra and The Princesses of Power, a modern retelling of the classic '80s girl power cartoon which recently set the internet ablaze when a certain subset of male fans decided the reboot's main character wasn't sexy enough? Luckily, it's a literal children's show, so it doesn't matter at all in the least! The highly anticipated series comes from Noelle Stevenson, a cartoonist known for the fantasy comic Nimona and the comics series Lumberjanes. Here's more on She-Ra, plus everything else to look forward to this month.
She-Ra and the Princesses of Power
According to Netflix: "She-Ra and the Princesses of Power is the story of an orphan named Adora (Carrero), who leaves behind her former life in the evil Horde when she discovers a magic sword that transforms her into the mythical warrior princess She-Ra. Along the way, she finds a new family in the Rebellion as she unites a group of magical princesses in the ultimate fight against evil."
Angela's Christmas
This animated Netflix original movie has a bunch of things going for it: 1) it's a period piece that takes place in the 1910s, 2) it's set in Ireland, and 3) it's a holiday flick set on Christmas Eve, which is probably going to tug at all the heartstrings. Angela's Christmas is based on the children's story by Frank McCourt and it comes out on November 1.
Brainchild
For the science kiddos (Netflix recommends the show for ages 5-7), there's Brainchild, a variety series that seeks to explain the science of kids' worlds in a way that's refreshing and relatable.
Kulipari: Dream Walker
The flash animated show based on Trevor Pryce's novel series An Army of Frogs returns for a second season on November 20.
Motown Magic
This animated musical series looks like one of Netflix's most promising new releases. It follows an imaginative but awkward 8-year-old boy named Ben who finds a magic paint brush with which he finds he can bring to life the street art and murals in his city. Each episode's story is built around a classic Motown song.
The Prince of Peoria
This live action multi-camera kids show is geared towards tweens. The logline reads: "When Emil, a 13-year-old prince from a wealthy island kingdom, travels to the U.S. to live incognito as an exchange student, he strikes up an unlikely friendship with Teddy, a fastidious overachiever who is Emil's total opposite."
Trolls: The Beat Goes On
Trolls: The Beat Goes On is a Netflix original series based on the 2016 movie, and Season 4 drops November 2.