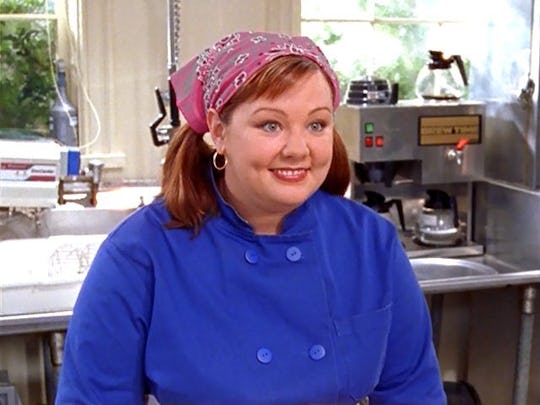 WB
7 Life Lessons From Sookie St. James Of 'Gilmore Girls' That Will Make You A Better Person
It's almost impossibly difficult to choose a favorite Stars Hollow resident, but Sookie might just be it. Though a highly comedic character, as Lorelai's best friend, Sookie is also a font of endless wisdom, from when to suck up your pride and ask your parents for that loan, to what wine you should order with the "magic risotto." I have assembled seven life lessons from Sookie St. James from Gilmore Girls, which help guide my life.
When it was announced that Netflix was airing a revival of the beloved series Gilmore Girls — after a highly disappointing end to the series with Season 7 — the world rejoiced. Our celebrations were tempered somewhat when Melissa McCarthy said that she hadn't been invited to take part in the revival as her character Sookie St. James. Personally, I could not imagine Stars Hollow without McCarthy, who was nothing short of brilliant as the quirky and lovable culinary genius, best friend, and mother, Sookie. Luckily, it all worked out in the end, and Sookie will be there to dispense hopefully at least a few more lessons like these, because Sookie is the actual greatest.
Perfectionism Is What Makes A Master
Sookie is famous for her perfectionism with her cooking, to the point where she was frantically taking daffodils off of her wedding cake in the middle of the night while in her wedding dress the night before the big day. She's been known to make hundreds of broccoli tarts in preparation for a catering job with Emily Gilmore, and chasing down a food critic at his home to have him try her risotto with the "right" wine. This, of course, is how Sookie has grown to be the incredible chef that she is. She doesn't present anything until it is just right.
Scars & Minor Injuries Are Trophies To Be Proud Of
Sookie isn't fully dressed unless she has her fingers covered in multi-colored bandaids from all of the burns, cuts, and other injuries sustained in the line of duty. Minor injuries are one of the hazards of the job, and Sookie wears them proud.
She's Your Body Positive Role Model
Melissa McCarthy has always been funny, but Gilmore Girls was one of the few roles she's had in recent years when not one joke was about her body. This, at least for me, is such a powerful form of body positivity. Sookie is a fantastic character who plays many roles in her life, from chef, to business owner, to mother, to wife, to best friend.
The Value Of Acceptance
Life can be rough. Sometimes, for example, your husband's family comes to town for Thanksgiving and takes the beautiful organic turkey you lovingly picked out and deep fries it. In cases such as these, there's nothing much more to do than breathe deep, accept it, and maybe mix a margarita or two.
Treat Yourself
Life is short, so don't waste it by eating subpar scones.
Crazy Is In The Eye Of The Beholder
Sookie's never claimed to be conventional, which is part of what makes her such a fun character to watch. It also gives her a unique perspective on what makes sense and what doesn't when she's got to give Lorelai some tough lessons.
The Truth Hurts
We first got to know Sookie as Lorelai's best friend. Like all best friends, sometimes the two disagreed, with one always ready to put the other in line. Sometimes Lorelai lashed out at Sookie, and sometimes Sookie had to remind Lorelai that the truth hurts, as when she gave her the ultimate wake-up call: "You're acting like your mother." Ouch, but necessary.
I cannot wait to see how Sookie and Lorelai's relationship has evolved in the past nine years in the revival (or what her kids look like now!). No matter what, there is no doubt that she will continue to be a pearl of wisdom.