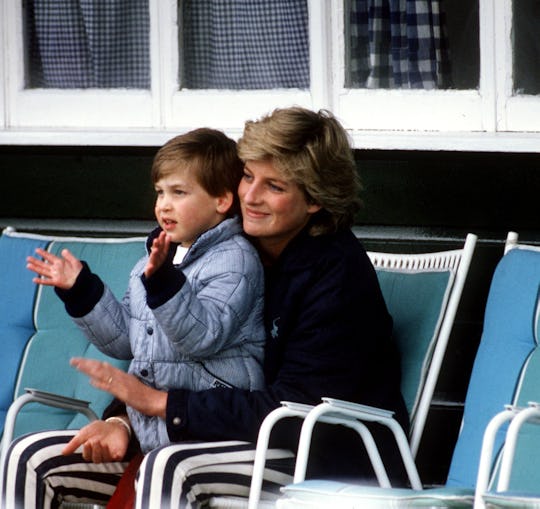 Trinity Mirror/Mirrorpix/courtesy of HBO
7 Moments From 'Diana, Our Mother' That Will Completely Change How You See The Princess
On August 31, 1997, Princess Diana was killed in a car crash, and her passing shook the world. Now, nearly 20 years later, her sons William and Harry are speaking about her for the first time, sharing their fondest memories of their mother in HBO's upcoming documentary, Diana, Our Mother: Her Life and Legacy. While the love William and Harry have for their mother runs strong throughout the documentary, viewers will also find it eye opening and heartbreaking. There are many new terrains the documentary travels, but perhaps these are the 7 most interesting things you'll learn when you watch Diana, Our Mother.
Along with some of Princess Diana's closest friends and family members, William and Harry show viewers the hidden, fun-loving, incredibly special side of Diana, unimpeded by the scandals and invasive reporters that plagued her entire adult life. Far different from the stuffy, haughty vision many have of the British aristocracy, Diana, nicknamed "the people's princess," was known for how relatable she was. In Diana, Our Mother, one colleague explained, "her humanity spoke to their humanity, regardless of the difference in class, the difference in life experience." She was renowned for her activism and charitable efforts, famously ending the stigma surrounding AIDS victims and calling out the British government for not doing enough for its country's homeless population.
Diana was an object of obsession for paparazzi, who followed her everywhere despite her best efforts to keep them away from herself and her children. But in HBO's new doc, those close to her share with viewers information the paparazzi never got access to.
1. Diana Was The Fun Parent
Both Prince William and Prince Harry remember their mother as being incredibly free-wheeling and fun-loving, determined to give her sons a normal upbringing despite their very un-normal circumstances. "One of her mottos to me was, you can be as naughty as you want — just don't get caught," Harry explained. "She was one of the naughtiest parents — she used to come and watch us play football and smuggle sweets into our socks."
2. She Loved Embarrassing Her Kids
All parents embarrass their kids, but Prince William remembers her as taking a special pleasure in it. He tells a story about one day when he came home from school, he found supermodels Cindy Crawford, Christy Turlington, and Naomi Campbell — all of whom he had posters of on his bedroom walls — waiting there to surprise him, all organized by his mother. "I went bright red, and didn't quite know what to say, and sort of fumbled and I think I pretty much fell down the stairs on the way up," said the prince, recalling how she loved "being the joker."
3. She Was Friends With Elton John
John and Diana were close friends up until her death, both of them being prominent, fervent AIDS activists. The AIDS epidemic of the '80s led to massive discrimination against those with AIDS and gay men; Diana was instrumental in combatting that discrimination. "For someone who was within the royal family, and who was a woman, and who was straight, and just to have someone care from the other side, was an incredible gift," the singer said of Diana. In 1997, wanting to pay a tribute to her, John rewrote the lyrics to his 1973 song Candle in the Wind, originally about Marilyn Monroe, to be about Diana.
4. Nothing Was More Important Than Her Children
The months leading up to Diana's separation from Charles took a toll on her, and those close to her remember how important her children were at that time. A friend of her's recalled, "I remember going to see Diana in Kensington Palace when things weren't particularly easy in her married life. She was very emotional — suddenly these two boys come thundering round the corner in their dressing gowns, and just watching her face light up ... I'll never forget that moment. Through all the difficulty of other stuff at that time, you could see the most important things in her life were her boys."
5. The 1997 Dress Auction Was William's Idea
In June of 1997, Diana famously and suddenly gave up 79 of her dresses for an auction to benefit her favorite AIDS and cancer charities. Many of the dresses themselves were iconic, like the "Travolta dress" she wore when dancing with John Travolta. The event was an indication that Diana was putting aside the lavish royal lifestyle she had led while married to Prince Charles in order to focus more on her charitable projects. It turns out that Prince William can take credit for that idea, as he recalled that his mother "got so fed up with all these clothes in her cupboards," leading him to suggest that she give the nicest ones away.
6. Prince William & Prince Harry Remember Their Last Phone Call With Princess Diana
After their parents' separation, the boys got used to splitting their time between the two, especially during Diana's travels. It wasn't easy, though, Harry recalled. "As a kid, I never enjoyed speaking to my parents on the phone," he says in the documentary. "We spent far too much speaking on the phone, rather than speaking to each other, because of just the way the situation was." On the day Diana died, neither Prince William nor Prince Harry, who were 15 and 12, respectively, really wanted to talk to her, both having things they'd rather be doing. In the documentary, both state that they regret how short their last conversations with her were. "If I'd known now, obviously, what was going to happen, I wouldn't have been so blasé about it," Prince William said. "That phone call sticks in my mind quite heavily."
7. Her Legacy Continues To Live On
From Diana's charitable efforts to the way she raised her two sons, Princess Diana's legacy persists. The inspiration she gave to so many Brits — and everyone else, too — is still there. One man who met her as a child remembered, "I had moral support from Princess Diana. It was like a powerful wind at my back driving me on." She set an example for future members of the royal family as an open, approachable, and generous person. Prince William's commitment to charitable projects like the London homeless shelter Centrepoint, where he first went with Diana when he was twelve, shows how his mother influenced him.
Princess Diana was the subject of much scandal and controversy in her lifetime, and in the wake of her passing a lot of attention was focused on the drama of her romantic life and conspiracies surrounding her death. But as we come close to the 20 year anniversary of that tragic day, Diana, Our Mother takes a step back from that, and reminds us what she truly was: an inspirational activist, a loving mother, and a caring human being.
Diana, Our Mother: Her Life and Legacy airs at 10 p.m. E.T. on HBO.