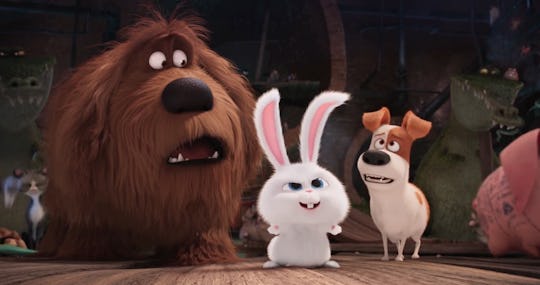 Illumination Entertainment
'The Secret Life Of Pets' & More Movies Leaving Netflix Behind This October
It's almost October, and with that comes Halloween decorations, changing leaves, and a certain gourd-inspired coffee drink that I'm not even getting into right now. But a new month also means new content on the streaming service so integral to our existence as human beings, its name is now a verb. It also means that to make room for some of that new stuff (I guess?), subscribers will be losing access to some older shows and movies, so you'd better find out what's leaving Netflix in October, and then rush to watch them all before it's too late.
The new fall offerings include tons of original programming, including cartoons for the kids, dramas for the adults, movies, documentaries, and stand up comedy specials. For the grownups, Daredevil is back with Season 3, and I don't know about you, but I'm pretty curious about The Chilling Adventures of Sabrina. For the kids, there's My Little Pony Equestria Girls: Rollercoaster of Friendship, which I assume is an extremely important installment in the tweens-that-look-like-horses franchise. Or if you're the type of parent who forces your own interests on your kids in order to mold them into smaller versions of yourself (raises hand), Pee-wee's Big Adventure is also available.
But there will be time for those next month. Right now, let's focus on the movies you need to marathon with your friends before they're gone.
Let Me In
This 2010 remake of a Swedish film stars the incredibly talented Chloë Grace Moretz as a vampire who befriends a young neighbor. Owen has a troubled home life, a bully at school, and no friends until he meets Abby. Then, hijinks ensue! Just kidding, it's actually really dark. But it's awesome.
The Lost Boys
Yup, I'm including two teen vampire movies. But this one is a classic! It's got the most '80s cast ever: Dianne Wiest, Kiefer Sutherland, Jami Gertz, Alex Winter (as in Bill S. Preston) and both Coreys. Both Coreys!
Kubo and the Two Strings
If you've seen any other Laika films — Paranorman, The Boxtrolls, Coraline — this one won't surprise you. If you haven't, though, be forewarned that the stop-motion animation studio has no problem mixing some seriously creepy elements into their films, which might be unsettling for more sensitive kids. But just like the others, it's visually stunning and wholly entertaining for the whole family.
Trading Places
Two evil millionaires destroy Dan Aykroyd's life for their own amusement. Eddie Murphy is also there, being very Eddie Murphy. Another classic.
Donnie Darko
It's so weird, yet so good. It's one of those movies that you'll want to rewatch immediately to catch what you didn't pick up on the first time. Patrick Swayze appears in a very unexpected role, and if you really want to bug yourself out, check out the little sister's IMDb page after you watch it, because you won't believe who else she played. Hey, I said after!
The Secret Life of Pets
Cute animals and slapstick for the kids, while parents can entertain themselves by trying to identify all the voice actors. Heads up, though: the human behind Max the terrier is, uh, slightly problematic these days.
The Babadook
To be honest, this movie looked super lame to me at first, and I only watched it on someone's strong recommendation. Boy, was I glad I did. It starts out with your classic haunted object plot, but then it takes a hell of a left turn. If you're the type who's into cinematic symbolism and metaphors and whatnot, this is good for that. If you're not, it's just a cool movie, and you'll still enjoy it.
If you had any plans this weekend, cancel them, because you have about 14 hours worth of better things to do now.