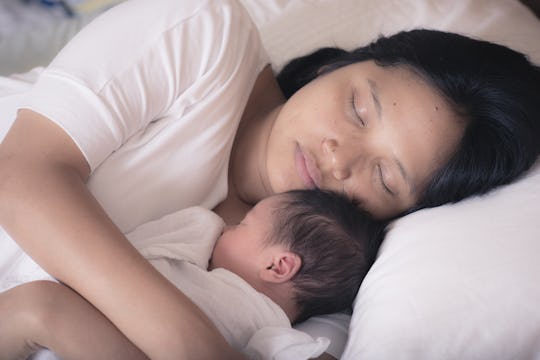 noBorders - Brayden Howie/Shutterstock
7 Myths About Co-Sleeping You Shouldn't Believe
Like any first time parent, I heard my fair share of opinions about what to do and what not to do if I wanted to ace the parenting game. Most of this wisdom was passed down from friends and family who had forged the road of parenthood before me. Although the unsolicited advice varied from person to person, there was on tid-bit that kept popping up: never bring your child into your bed. Without knowing better, many people started telling me myths about co-sleeping you should not believe. But still, I started to think it was super important for my baby to have his own crib in his own room.
With blind trust, I took the bait and prepared to put my baby into his own room after coming home from the hospital. Not having one shred of research to back up my decision, I was convinced this was the direction to take. However, when it came down to it, I just couldn't bear the thought. If I had taken the time to dig into what professionals have to say about co-sleeping, I would have found comfort in my decision, instead of feeling shameful, as if I had done something wrong.
I wish someone would have told me myths about co-sleeping are false beliefs, then I could have really rested well. Lucky for you, I'm here to dispel the myths once and for all.