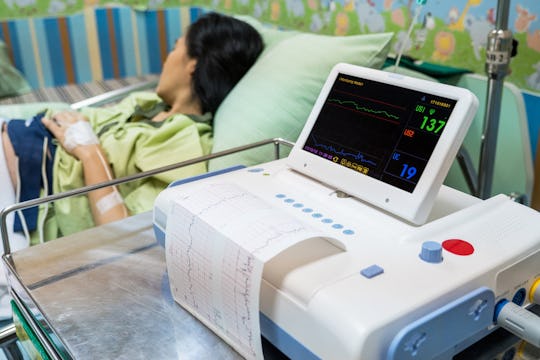 Watthana/Fotolia
7 Myths About Getting Induced That Every Pregnant Woman Should Ignore
I don't know about you, but I was ready to serve my babies eviction notices weeks before their due dates. I spent hours Googling "natural" ways to induce labor, completely tired of the whole being pregnant thing. Of course, annoyance and discomfort aren't the only reasons for induction, natural or otherwise. In fact, there are more than few situations that require medical intervention to get labor going. Unfortunately, there are a lot of myths about getting induced that have made induction, and the women who choose and/or receive it, the subject of endless judgment and shame. Well, enough is enough.
No matter what you've heard or read, the majority of pregnant women aren't getting induced "just because they're sick of being pregnant." According to the American Pregnancy Association (APA), "labor should be induced only when it is more risky for the baby to remain inside the mother's uterus than to be born." Preeclampsia, heart disease, gestational diabetes, or bleeding are just a few medical reasons an induction may be necessary, and all are out of a pregnant woman's control. So all that judgment and shame? Yeah, unnecessary and unfair.
In 2003, Jane E. Brody of The New York Times reported that induction rates were on the rise, which, perhaps, gave fuel to the anti-induction fire. The report highlighted the increase number in cesarean deliveries, too, as a direct result of higher numbers of inductions. Dr. William F. Rayburn, an expert in maternal and fetal medicine at the University of New Mexico Health Sciences Center in Albuquerque, told The New York Times, "Induction results in Caesarean deliveries when the cervix fails to dilate or dilates very slowly or stops before full dilation, or when the woman becomes too fatigued to push the baby out or when the resulting contractions are too strong for the baby to tolerate them well. Caesareans after inductions are particularly common in first pregnancies." Likewise, a study in The Journal of Perinatal Education found that babies born "near-term" via induction are at an "increased risk for temperature instability, hypoglycemia, respiratory distress, apnea and bradycardia, and clinical jaundice." These aforementioned reports and studies have lead many women to be afraid of, and actively try to avoid, inductions.
But again, there are plenty of situations in which an induction is medically necessary. So it's important expectant mothers know the risks, trust their team of health care providers, and educate themselves regarding their own situations so they can make the best, most informed decisions for their own unique circumstances. That, of course, includes de-bunking myths about getting induced. Myths like, well, the following: