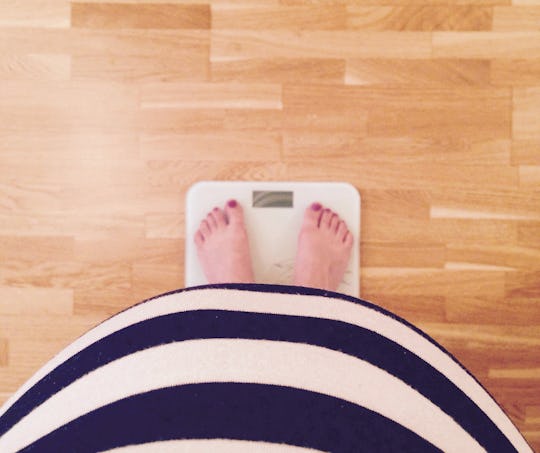 fanfan30/Fotolia
7 Myths About Pregnancy Weight Gain That Society Should Ignore For Good
When you're pregnant, you know that gaining some weight is a part of the process. But as your belly grows, you may be wondering when your back will stop hurting or if you'll ever see your toes again. To top it off, you're probably receiving lots of unsolicited advice from friends and relatives about your pregnancy weight. But you should know that there are plenty of myths about pregnancy weight gain out there, and all of them should be taken with the tiniest grain of salt.
You've probably been told that you're eating for two, that you can gain as much weight was you want, and that all you need to do is breastfeed to see your pregnancy weight melt off. But these statements aren't entirely true. Although it's perfectly OK to give in to those milkshake cravings every once in a while, you shouldn't go overboard. After all, gestational diabetes and preeclampsia are just a few of the potentially dangerous consequences of gaining an unhealthy amount of weight during pregnancy. Make sure to work with your doctor to determine a healthy range of weight to gain during your pregnancy, and do your best to stay within those guidelines.
Once your baby is born, be patient with yourself about taking the weight off. The first few months are going to require a lot of energy, and all new moms should maintain a healthy diet and level of exercise to keep them going.