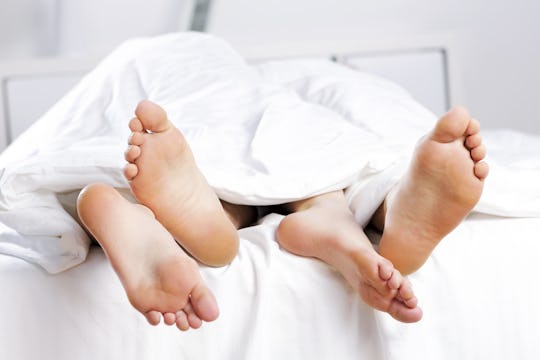 Sergey Nivens/Fotolia
7 Myths About Sex After Kids That All New Parents Need To Clarify
After having a baby, you make a lot of adjustments. Sleeping more than three hours at a time is something you now compare to winning the Powerball and being able to leave the house without spit-up on your shirt is a major accomplishment. As you're adapting to this new way of life and learning what things will never be the same, the topic of getting busy will likely come up. Although you may have some concerns about what that will be like, make sure you know which information are myths about sex after kids and which are facts.
Every woman has a desire to get back in the groove at a different point, postpartum. But whether you're urges return at two weeks, two months, or long after that, it's important to know the facts about what sex after birth may be like. Don't be discouraged if sex doesn't seem the same right away, it may take time to get back to the sex you and your partner enjoyed prekids. This doesn't mean anything is wrong with you, like some myths are designed to make you think. Understanding what is happening with your body in this phase is the first step in unpacking why postpartum sex myths are so bogus.
Not sure if something you've heard about sex after baby is true or false? Take a look at these common myths, then pretend you never knew they existed.