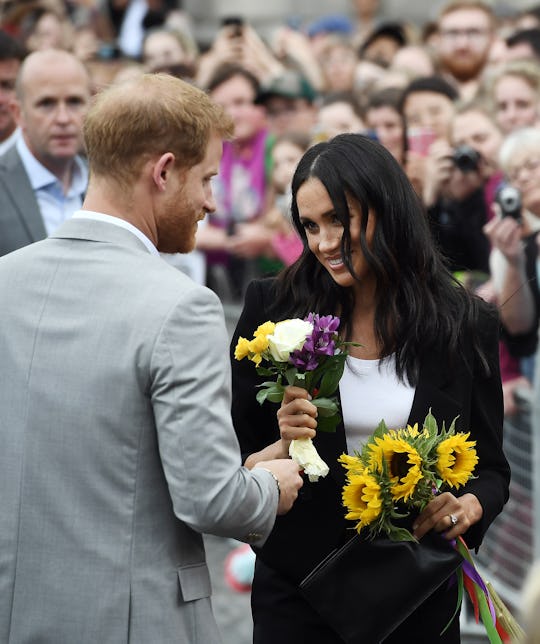 Charles McQuillan/Getty Images Entertainment/Getty Images
7 Photos Of Prince Harry & Meghan Markle Showing PDA
Those who follow the royal family closely will know that demeanor and presentation is pretty important to them. There are many rules and regulations that the royals are expected to follow, and that applies to everything from nail polish color to open toed shoes. However, the rules aren't just sartorial: they also apply to conduct and behavior. Specifically, expressing affection for one another in public. However, here's 7 photos of Prince Harry and Meghan Markle showing PDA, because they're nothing if not our favorite rule benders.
Myka Meier, a royal etiquette expert, explained to People back in 2016 that "there is no actual etiquette or royal protocol that says the couple must refrain from PDA," however, that you don't see a lot of royals engaging in it simply because often when they are seen in public, it is for work. Meier also explained that the precedent was set by the Queen, who is rarely ever seen holding hands with her husband in public.
But royal photographer Mark Stewart told People on Wednesday that Harry and Meghan "are not afraid to hold hands," and that they don't mind "showing emotions" in front of others. "Meghan is used to being touchy-feely, and Harry is the same," former palace spokesman Dickie Arbiter also told the magazine. "Harry has always been tactile."
Be that as it is, here are some of the sweetest moments Harry and Meghan have shared, whether they were holding hands, looking sweetly at one another, or escorting each other into events. If they weren't ultimate royal couple goals before, they definitely are now.
1. That Iconic Wedding Shot
Prince Harry and Meghan Markle tied the royal knot on May 18, Harper's Bazaar reported, and among the onslaught of photos taken of them that day, this aerial shot of them holding hands as they are whisked off in their royal carriage is truly among the most iconic.
2. The Engagement Announcement
In November of 2017, Prince Harry announced his engagement to Ms. Meghan Markle, The Telegraph reported. In their first official interview after the news was announced, Markle explained that though she's very excited for this new chapter in her life, "nothing about [her] has changed."
We were very quietly dating for about six months before it became news, and I was working during that whole time, and the only thing that changed was people's perception. Nothing about me changed. I'm still the same person that I am, and I've never defined myself by my relationship.
3. While They Were Still Dating
If it wasn't obvious that Prince Harry was truly smitten with Meghan Markle from the get go, these super sweet photos of them out and about before they were engaged and married definitely prove it. PopSugar reported that Prince Harry said they fell in love quickly:
We had two dates in London last July, and it was I think about three, maybe four weeks later that I managed to persuade her to come and join me in Botswana, and we camped out with each other under the stars.
4. Taking Care Of Royal Duties Together
Now that Meghan has her new title as Duchess of Sussex, she and Harry have wasted no time beginning their work together. Though Meghan had to leave her job starring on Suits, as well as other endeavors like her lifestyle website The Tig, Vanity Fair reported that the newly appointed Duchess would have her hands full in keeping up with royal obligations right away.
5. Harry Escorting Meghan To Dinner
It's clear that Prince Harry feels a protectiveness toward Meghan, whether that's in his hand gestures or other comments he's made. Vanity Fair reported that when they first started dating, Kensington Palace released a statement saying that Harry was worried about the onslaught of negative media attention Meghan was receiving. It read:
Meghan Markle has been subject to a wave of abuse and harassment... Prince Harry is worried about Ms. Markle's safety and is deeply disappointed that he has not been able to protect her.
6. Sneaking A Laugh In During Royal Duties
Shortly after their wedding, Harry and Meghan returned to their royal duties after each taking a month off to prepare for their nuptials, People reported. They were seen here sharing a laugh with one another at one of their outings.
7. Walking Off Into The Sunset Together
Okay, so... maybe they weren't exactly walking off into the sunset. But they were sharing a super sweet moment at their very first outing together post-wedding. It's probably safe to say that this is just the beginning of the super sweet moments that Harry and Meghan will share and show the world.