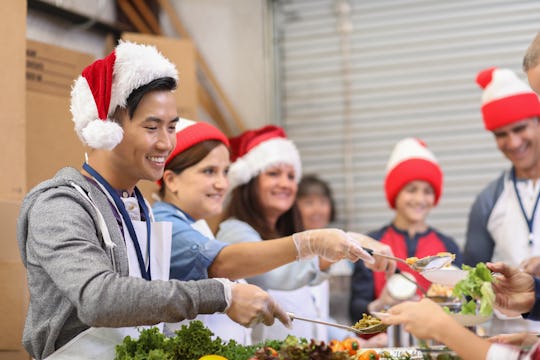 fstop123/E+/Getty Images
Nursing Homes, Children's Hospitals, & 5 Other Places To Volunteer On Christmas
The holidays are synonymous with big meals, presents, and spending time with those you love. Sadly, not everyone has the means or ability to participate in those traditions, but there are a variety of places to volunteer on Christmas day that will allow you to help spread the cheer to those people. Whether its patients in hospitals, struggling families, or senior citizens who could use a smile, there are a lot of opportunities for you to bring the warmth of the holiday to those who need it.
Even if your Christmas day is packed full with family gatherings, you can still make a big impact with a tight schedule. Popping by your local fire or police station with a tray of food (or cookies!) will bring a smile to those who are serving your community instead of celebrating with their own families. The same is true for doctors and nurses in nearby hospitals who are spending their day saving lives.
Every little bit of holiday spirit helps, but if you have a little more time on your hands on Christmas, consider volunteering somewhere nearby where you can actually visit with people who may be alone or who couldn't afford a big family dinner. If you're not sure where to look, here's a list of seven spots to check out in your community where your time can make a big impact on Christmas day.