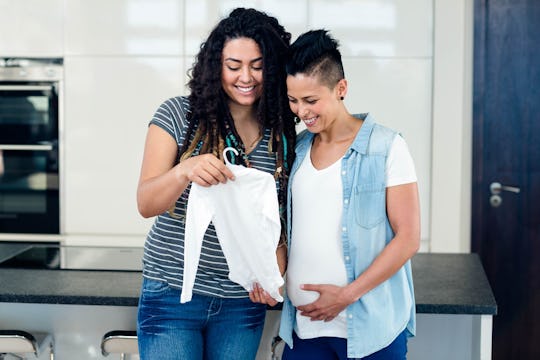 Fotolia
7 Plans My Partner & I Made To Keep Our Marriage Hot That Went Out The Window After Baby
Keeping the romance alive in a marriage is difficult, even for the hottest of couples. Introduce a baby and, well, that burning flame is likely to be more of a warm ember on a good day. Before I gave birth, my partner and I made plans to keep our marriage hot after the baby, but those well-intentioned ideas quickly dissolved when the reality of parenting hit (and hard). Because, you know, parenting is hard and it's exhausting and when you're too tired to keep your eyes open the absolute last thing you want to do is get between the sheets for physical anything.
During my first pregnancy my hormones took a nosedive, leaving me with little desire for anything even resembling intimacy. That, coupled with severe morning (read: all freakin' day and night) sickness meant my partner would be waiting a while for any special "couple" time. My second pregnancy was the complete opposite and came with surging hormones, like that of a pubescent teen. It was during that magical time that we thought we could continue this streak of romance long after labor and delivery because, well, why not? Boy, were we surprised (disappointed) when, after we brought out babies home, all those plans went right out the window.
Listed and properly filed under "ideas that sound like a good idea at the time," here are things we thought about doing to keep our marriage hot, even if life (and baby) had other plans. At least we get an "A" for effort, right?