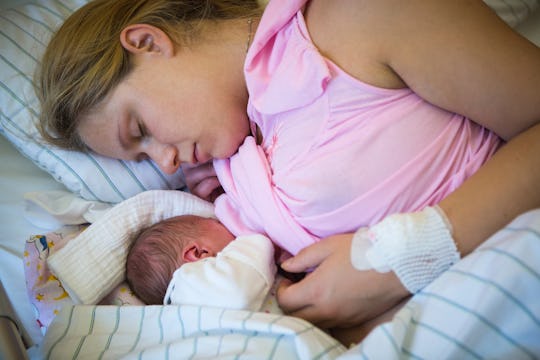 Kristin Gründler/Fotolia
7 Questions About Breastfeeding You Should Ask Your Pediatrician
Having a baby often means venturing into uncharted territory to figure things out. If you're a first time parent, you'll likely have questions about everything under the sun — from holding your baby, to sleep habits, to milestones your baby should hit, to breastfeeding. The phrase "it takes a village" applies to nursing as much as any other aspect of parenthood, so don't feel like you have to go it alone. There are a few helpful questions about breastfeeding you should ask your pediatrician sooner rather than later, to make your time with your baby as smooth and worry-free as possible.
Breastfeeding, though it may be the most natural thing on the planet, doesn't always come naturally. It's especially tricky in the first weeks at home with your little one, so taking advantage of the help of your pediatrician — who should be experienced, informed, and, at the very least, breastfeeding friendly — will benefit you and your baby in the long run. These questions are common enough that almost every mother asks them at some point, so they definitely won't take any experienced healthcare professional by surprise.
Being proactive and seeking help right away will ensure that you and your baby can enjoy your time breastfeeding, instead of treating it as another exploration into the great unknown.