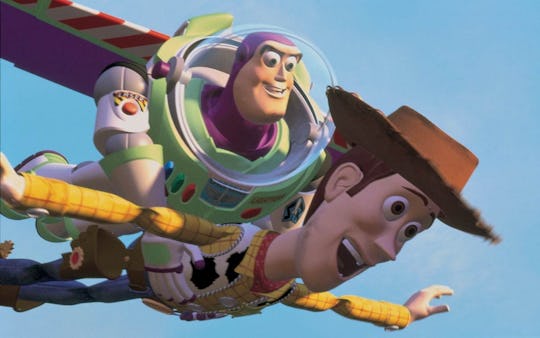 Pixar
7 Reasons 'Toy Story' Is The Most Important '90s Movie To Share With Your Kids
Are you ready to feel crazy old? Today is the the 20th anniversary of Toy Story. That's right, a movie you probably very clearly remember going to see as a kid is 20 years old. You're not 20 years old — a movie you were possibly not even all that young when you saw is 20 years old. If Toy Story were a person it could vote and would only have to wait another year to get drunk with you (legally). I'll give you a few minutes to sob quietly to yourselves as you contemplate your own mortality... Are you good? OK, let's move on. We don't have much time, friends. Death is hurtling toward us, closer every minute.
In a time when it's rare to see an animated film that isn't computer animated, it's humbling to think that Toy Story was the first feature-length computer animated film and the first theatrical film produced by Pixar, a company upon which we have come to rely for a steady stream of quality children's films that routinely reduce adults into emotional puddles of tears. And they deliver every time for one (OK, many, but one primary) reason: Pixar has always put story first and it shows — and Toy Story was when most of us became introduced to that.
Toy Story is a film made with tremendous heart by insanely talented people who obviously believed in and cared about this project. The fleshed out characters, meticulous attention to detail, warmth, pathos, and relatability ensures that this is a film that holds up 20 years since it first captured our hearts. Here's why it might be the most important '90s movie you can share with your kids...