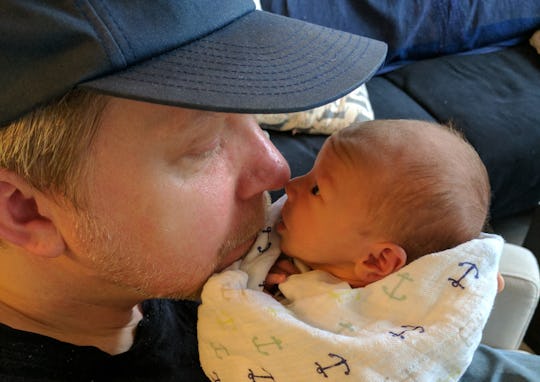 Courtesy of Anne Vorrasi
These 7 Reasons Why Dads Are Better Now Than Ever Will Warm Your Heart
Burnt meals, missed bedtimes, a destroyed house — we've all heard the stereotypes of what things are supposedly like when dads are in charge. Once upon a time, the image of a father was a figure who was so inept at childrearing that he could basically be counted as another kid for mom to take care of. But thankfully, that bumbling image is more confined to sitcoms than reality these days. There are many reasons why dads are better now than ever before, and they benefit the entire family.
Fathers who are more involved with their childrens' lives leave a lasting impact on them. Live Science noted a 2006 study which showed that babies who get lots of playtime with their dads have higher IQ's. And that roughhousing that can drive mom crazy? Dr. Richard Fletcher told ABC News that it's crucial to a child's development, as it can boost their confidence, concentration, and strengthen their bond (it's also pretty good exercise, as long as no furniture gets smashed in the process, and obviously no one gets hurt).
A huge percentage of fathers surveyed by Parenting said they were very confident in their daddy skills — but mothers were a little hesitant to trust them to take care of the kids. Moms who take a step back and let dads work their magic might be very pleasantly surprised with the results.
Here are seven reason why modern dads are awesome.