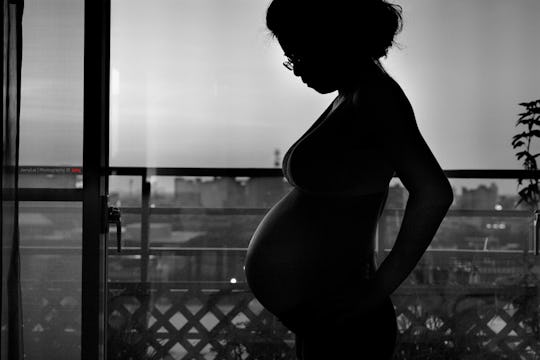 7 Reasons You Should Love Your Body More After Having A Baby — And Why It's So Hard To Do So
I need to be honest: When I was first assigned this article, I wanted to run away from my editor screaming. That probably perplexed her a little bit, because she doesn't normally assign stuff for me to write that is out of my comfort zone, and to be fair, I'm pretty sure she thought writing about loving my body would fall squarely into my comfort zone. I am generally a very body-positive person, and certainly work hard for my stepdaughter and daughter to be raised in a body positive environment. So writing about celebrating the awesomeness of my body should not, in theory, be such a challenging task — unless you're talking to me about my pregnant body.
Pregnancy can be tough (I know, you've never heard that before, have you? Brand new information!). Your body changes so fast, in so many ways. It can be, and often is, jarring for a woman going through it, and it can leave you wondering who walked away with your old body and gave you this new one. For me, my second pregnancy was so completely different from my first, it felt like I was going through it again for the first time. Only it wasn't nearly as healthy or happy.
I think the reason so many women have trouble loving their bodies after they give birth is because they (meaning we) are only taught to love their (our) bodies in a few ways, mostly having to do with adherence or lack thereof to sexual ideals as defined by Western, male, heterosexual standards. In other words, women are taught to view their bodies through the Male Gaze, which places no value at all on qualities like "function" or "strength." So when our bodies act even exceptionally functional, or exceptionally strong, if those functions and that strength results in our bodies fitting less perfectly — even temporarily — into that rigid mold of what a "good" female body looks like, then we have a very hard time overriding our programming and loving our bodies, even if our brains know that those same moments are when our bodies are the most worth loving.
But truly, there are so many reasons to cherish your body and all that it does once you become a mother. And so, I am writing this list not only for you, dear readers, but for myself as well. Because having a baby should make you love your body more. Even when it's hard to do so. Especially when it's hard to do so.