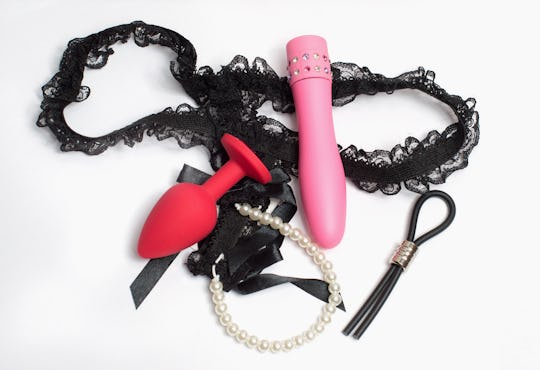 bombardir7/Fotolia
7 Reasons You Should Never Feel Embarrassed About Using Sex Toys With Your SO
Remember how people told you to always wear nice underwear just incase you were in an accident? That way the paramedics wouldn't see you in threadbare period panties and you would be able to keep some of your dignity as they cut your clothes off and put you in a hospital gown. But have you every worried that if something happened to you, your loved ones would be sorting out your things, only to discover your secret drawer of sex toys? It could happen. But tragic and hypothetical situations aside, you should never feel embarrassed about using sex toys — in fact, you should be proud.
Using toys and enhancers for sexual pleasure has carried a bit of mystique and taboo for years, making people who enjoy them feel like it's a part of their life that should be kept secret. But more and more these days, women and men alike are proclaiming their support of sex toys and waving away the cloud of shame. Many of the old myths (such as only lonely single women use vibrators) are started to be dispelled as masses of couples are talking more openly about the toys they use in the bedroom.
Enjoying a healthy and positive sex life is nothing to be ashamed of, and using sex toys to elevate pleasure should be celebrated. But if you still feel a little timid when they topic comes up, remind yourself of these seven reasons you should never feel embarrassed about using sex toys, and remember that everyone else is doing it too.