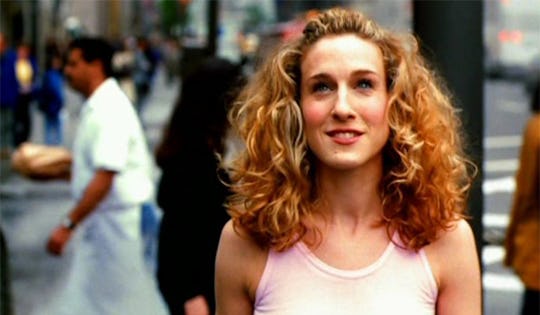 7 Reasons Your New York City Life Doesn't Look Like Carrie Bradshaw's (And Why That's Okay)
When I first came to New York City to be a writer, I (only half-jokingly) told friends I was going to have a New York life like Carrie Bradshaw's. My days would look something like hers: traipsing around Manhattan in sky-high heels, going to fancy soirees with my best friends, and meeting and interacting with celebrities on the reg. I pictured myself sitting down to work in a charming one-bedroom Upper East Side apartment, going to get coffee in tulle skirts and designer t-shirts, and frequenting all of the hottest spots in town for dinner, drinks, or dancing.
Well, that idea faded fast. Let's just say my life does not look at all like an episode of Sex and the City. I walk around in comfortable shoes because I care about my feet; I rarely have a celebrity sighting; I have never once worn tulle.
But isn't that why we love Sex And The City? Don't we watch it to live vicariously through her New York life that almost no one really has? Many have mocked the unrealistic nature of Sex And The City's New York portrayal, but for me that's what's so dazzling and exciting. Watching Carrie, Samantha, Charlotte and Miranda live their glamorous existence is like a modern-day metropolitan fairy tale. Carrie's life is so utterly fabulous, and seeing her strut down the same streets I walk, I am able indulge in fantasy and imagine myself in her Manolo Blanhiks.
Despite all of the discrepancies between Carrie's New York life and mine, the last time I binged on Sex and the City, I couldn't help but wonder, what would it be like if I lived the life of this fabulous woman?
Here's why an average New Yorker isn't Ms. Bradshaw, and why we all wish we were.