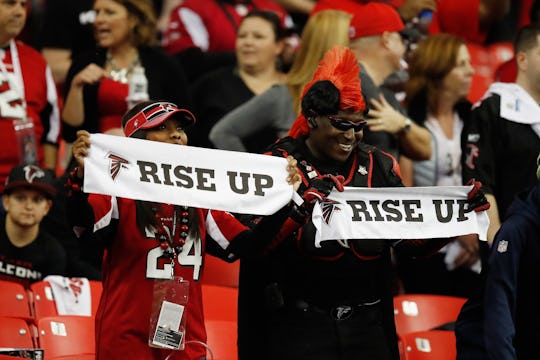 Gregory Shamus/Getty Images Sport/Getty Images
How To Throw A Red & Black Super Bowl Party
Super Bowl Sunday is practically here, and no one is more excited than Falcons fans. With this year marking the team's first return to the Super Bowl since 1999, fans of the Dirty Birds are making it known that they rep their team harder than any other football fans out there. If you happen to be one of the diehard fans, there's no question that you'll be looking for red and black Falcons-themed party ideas to make this year's extravaganza unlike any other.
Atlanta fans are in a league of their own when it comes to supporting the Falcons. All throughout the city, the only colors you see are red and black (with a touch of white) on any given game day. That's exactly why I would expect everyone who's going to or throwing a Super Bowl party this year to empty out all of the red and black pieces from every store that carries the colors. From plates and cups to rugs and pillows, Falcons fans have a tendency to get very creative when it comes to showing their love and support for their team.
Need an idea of how to make your Falcons party stand out? These seven party themes could definitely be the way to do it.