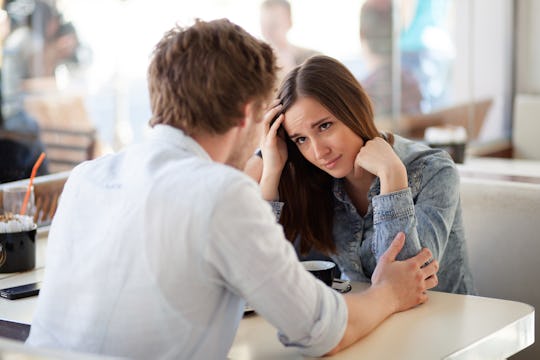 Peter Bernik/Fotolia
7 Red Flags That Your Partner's Anger Is Something More
Everyone gets angry, yours truly included. Whether it's a silly spat over who left a pile of laundry in the middle of the floor or something serious that requires a sit down chat, human beings are, well, human beings. And that means we all have the ability to fly off the handle every now and then. But what are some signs that your anger might be a window into a larger issue? Or how might you notice red flags that your partner's anger is something more? Experts say there are some key things you'll want to keep in mind.
Almost 9 percent of American adults — or approximately 22 million people — have a history of impulsive angry behavior and have easy access to at least one gun, MinnPost noted about a 2015 study published in the journal of Behavioral Sciences & the Law. On the other hand, 24 people per minute — more than 12 million women and men — are victims of rape, physical violence, or stalking by an intimate partner in the United States over the course of a year, according to The National Domestic Violence Hotline.
Put simply: Anger can be a serious topic. Whether your relationship requires anger management therapy or you are scared for your well-being, it's time to explore your options for help. If you need help, get in touch with an organization such as The National Domestic Violence Hotline (1-800-799-7233) to make a safety plan that is supported by outside agencies.