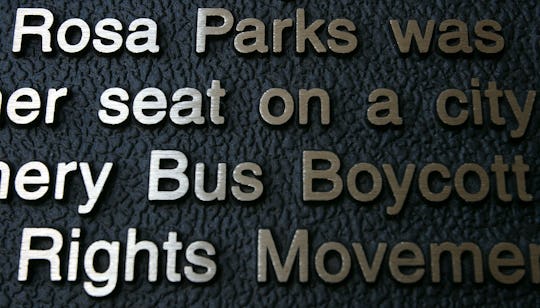 7 Rosa Parks Quotes, On The Anniversary Of The Civil Rights Leader's Biggest Stand
On Dec. 1, 1955, Rosa Parks refused to give up her seat to a white man. Due to her planned act of civil disobedience, Parks was jailed and fined, but that was by no means the end of her activism. Parks continued to fight against segregation, most notably through the Montgomery Bus Boycott, which began that very same day. The seven Rosa Parks quotes that follow exemplify her tenacity and constant compulsion for justice; Parks' fearlessness remained one of her most distinctive traits until her passing in 2005 at 92 years old.
Along with the NAACP and Dr. Martin Luther King, Parks helped ensure that the 381-day boycott was successful and that black voices were heard. Her activism was arduous but her diligence allowed for a galvanization of the civil rights movement; The Montgomery Bus Boycott led to the eventual legal desegregation of city buses.
Parks' quotes still echo in today's ears. Her message of resisting complacency, even against the pressure of a powerful oppressor, is paramount as our nation continues to struggle with civil rights issues of its own, as has been recently embodied in the protests at Standing Rock, political threats to the rights of Muslims, and the still-massive number of incidents of racial injustice against black Americans. Parks is a figure of freedom who continues to inspire today.