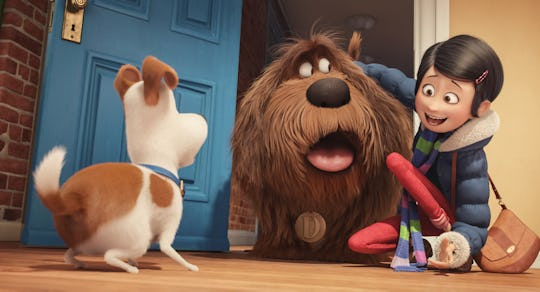 Universal Pictures
7 'Secret Life Of Pets' Costumes For Every Member Of The Family — Furry Friends Too
The Secret Life of Pets is a hilarious animated film that lets pet owners in on what really goes down when they leave their pets at home alone. In the movie, the adorable cast of cats and dogs (and a rogue rabbit) go on an adventure to reunite Jack Russell Terrier Max and Shaggy Duke with their beloved owner. If you loved the film and can't get enough of the pets, you may want to check out some Secret Life of Pets costumes that your entire family will want to get their hands on this Halloween.
The huge success of the film means that there are plenty of creative Halloween costume ideas out there this year for adults and kids alike, whether you want to be a cuddly cat or a faithful dog. And even your pets can get in on the action with pint-sized costume ideas available for them as well.
If you're looking for some ideas for your Secret Life of Pets costume, check out some of these ideas inspired by the summer animated hit. And once you're in your costume, don't be surprised if you get puppy treats instead of candy when you're out trick-or-treating this Halloween night.