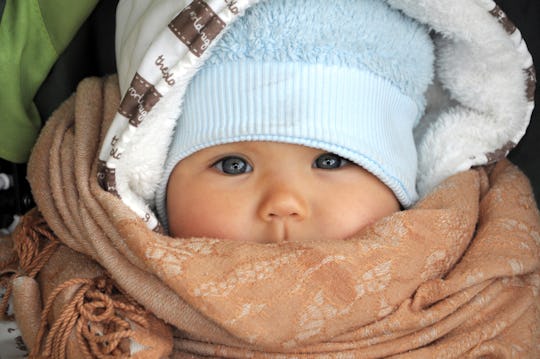 aynur_sh/Fotolia
7 Signs of Frostbite In Babies That Should Be Noticed As Early As Possible
Winter is coming quickly, which means it's time to get prepared. Aside from stocking up on wood for the fire, new blankets for the bed, and scarves and sweaters for bundling, parents of young children have to make sure they're prepared to prevent frostbite. Since babies are able to communicate their ailments, parents have to be well-versed on the different signs of frostbite in babies so that they are able to stay healthy during winter.
Frostbite, though rarely talked about it, is very serious. According to Nationwide Children's, frostbite affects children more than adults and occurs on small, exposed areas of the body such as the nose, ears, fingers, and cheeks. If frostbite is not treated, it can cause the skin to turn black and, unfortunately, lead to amputation.
With babies, finding out what areas are cold or are in pain is very difficult. So, when it comes to noticing frostbite, parents have to pay close attention to the way their baby's skin looks and feels. Though frostbite can be treated, taking the necessary preventative measures will help you from dealing with a baby in pain.
Even with all of your knowledge as a parent, things happen. So, if at any point during this winter you think frostbite hit your baby, here are seven signs that will let you know if you're correct.