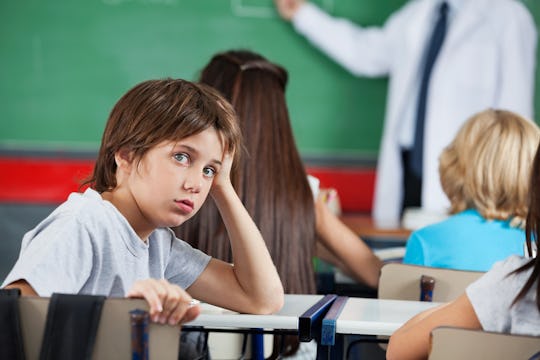 Tyler Olson/Fotolia
7 Signs Your Child Isn't Being Challenged In School, Not Acting Out
Having worked in the education system — particularly with children who had developmental delays or were considered gifted — I've met with many exasperated and desperate parents who wanted to know why their son or daughter had such behavioral issues. Most of the time it wasn't because they had a "bad kid" or a "problem child," it was simply that their particular learning needs weren't being met. So it's always a good idea to look out for signs your child isn't being challenged in school — not just acting out — because they may not have the words or ability to tell you that themselves.
As a parent, one of the main things you want is too see your child achieve (and succeed at) whatever they put their minds to do. But, as with most things in life, it isn't always as simple as that. If you're repeatedly getting calls or notes sent home that your child is disruptive or acting out, perhaps the source of their behavior is due to a lack of stimulation in a school setting.
Every child is different, but it's helpful to be aware of the signs that your child isn't being challenged in school so that they can get the kind of education they deserve instead of being mislabeled as acting out.