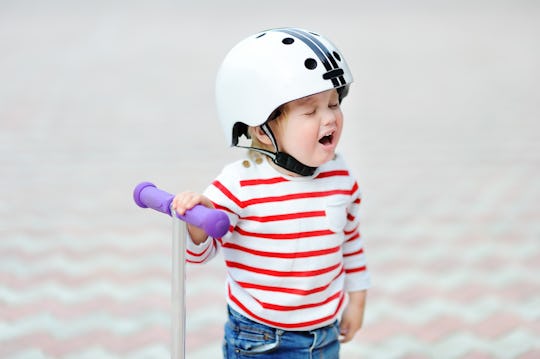 Maria Sbytova/Fotolia
7 Signs Your Kid Has Anger Issues & Isn't Just Throwing A Tantrum
My kids do not discriminate when it comes to tantrums. It doesn't matter if we are in a store, the park, or a party — when the mood strikes, they let loose as if there is no one else in the world. I've also seen other kids doing the same in line at Target and at the airport. These fits are hard on parents and make you wonder how someone so small can have so much emotion. But how much is too much? Can you determine the signs your kid has anger issues and isn't just having a tantrum?
It's not always easy being a kid. It takes time for them to learn how to voice their feelings, especially the strong ones they don't fully understand. According to Psychology Today, anger is a primary emotion that is part of human make up. This emotion can be prompted for various reasons, so understanding what is causing your child to feel so angry is the first step in helping him to manage this emotion.
If you feel like the tantrums in your house are crossing a line into something different, consider these seven signs your child has some issues with anger and it's just throwing a fit.