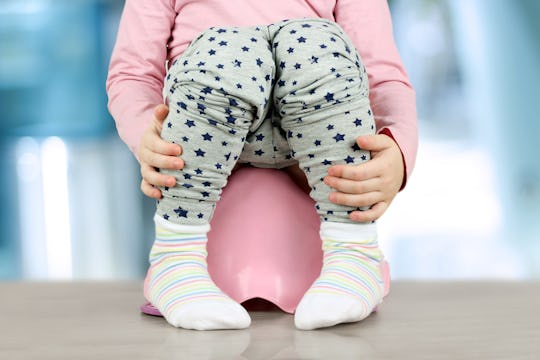 Saklakova/Fotolia
7 Signs Your Toddler Has A UTI, Because The Symptoms Can Be Tricky
When my daughter was treated for the stomach flu this past January, one of the items on the hospital staff's checklist was making sure she didn't have a urinary tract infection (UTI). After all, she had a high fever, was lethargic, and had vomited earlier in the morning which pointed at a stomach bug, but those could have also been some of the known signs your toddler has a UTI. Lucky for her, they ruled it the stomach flu before needing to go through the painful process of a catheter to test for a UTI (younger kids typically don't have the ability to properly pee in a cup), but it still left me wondering about the chances of my toddler contracting a UTI.
Dr. Wendy Sue Swanson, a pediatrician at Seattle Children's Hospital, tells Romper in an email interview that UTIs are fairly common in young children. In fact, she notes that 3 percent of girls and 1 percent of boys will have a UTI by 11 years of age. "UTIs may go untreated because the symptoms may not be obvious to the child or to parents," Swanson says.
Even more of a reason to check out this list, right? Scope out your kiddo's symptoms and stop a UTI in its tracks by getting them the treatment they need.