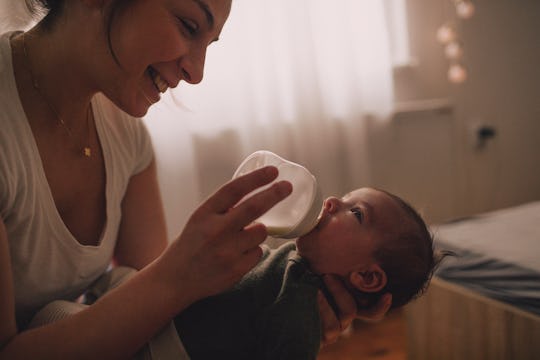 AleksandarNakic/E+/Getty Images
7 Signs You're Overfeeding Your Baby When Supplementing
Trying to figure out how much your baby should eat in the first year can sometimes feel like rocket science. Babies often have erratic sleeping and eating behaviors, leaving you clueless as to how often both things should occur. Things can get even more complicated when you start supplementing with formula, and mothers who bottle and breastfeed often wonder if they're overdoing it. Thankfully, there are signs you're overfeeding your baby when supplementing that you can watch out for.
"Contrary to popular belief, it is possible to overfeed babies," pediatrician Sara DuMond M.D. tells Romper, adding, "babies who are overfed are at risk for increased disturbances in sleep patterns, self-regulation/self-soothing patterns, and abnormal growth pattern." Consistent overfeeding can lead to weight problems as well. "Once a baby's stomach is stretched out, it is hard for the baby to feel satiated with less volume of milk," pediatrician Dyan Hes M.D. tells Romper in an email.
Overfeeding your baby once or twice is unlikely to lead to long-term problems. To avoid doing it on a regular basis, though, take generalized milk/formula guides as just that — general. "At every stage of infancy there is a recommended volume of breastmilk or formula for a baby to drink," Dr. Hes explains, but "there is a lot of wiggle room depending on the size of your baby." Additionally, Dr. DuMond encourages parents to learn how to recognize their baby's unique hunger cues, because crying doesn't always mean it's time to eat. These are seven signs could indicate that your baby has been overfed, so you know to adjust for next time.
This article was originally published on