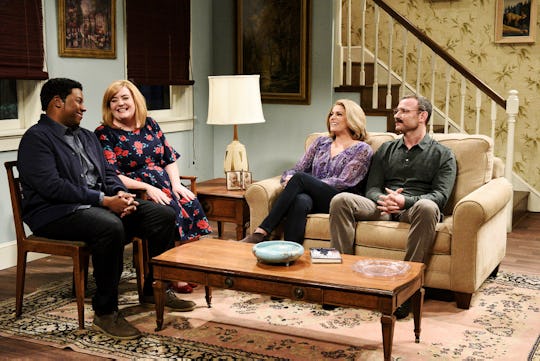 Will Heath/NBC
These 'SNL' Thanksgiving Skits Find The Humor In The Holiday
Thanksgiving isn't exactly the funniest of holidays — it's a time of delicious meals and sometimes-tense family dinners — but Saturday Night Live has found a way to mine it for humor anyway. Over the years, they've featured sketches that tackle the holiday's uncomfortable moments or heighten the mundanity to surreal levels. These 7 SNL Thanksgiving skits are some of their best, and can serve as the perfect amuse bouche to this year's brand new turkey day spoofs (whatever they turn out to be).
Some of SNL's Thanksgiving skits lean into the awkwardness of being back in your family home as an adult, where you can find yourself reverting to old behaviors for better or worse. Others are much more eccentric, featuring impressions that range from Guy Fieri to Vincent Price. The more unconventional each skit gets, the more unexpected it feels, taking the relatively mild food-centric holiday and making it as outlandish as humanly possible. And that's no easy feat.
These aren't all of SNL's Thanksgiving sketches (the show has been on the air since 1975, so there have been a lot), but just a few to keep you entertained during the holiday weekend. In no particular order, enjoy the following skits.